Smartphones and TV have irreversibly changed society; neither has come close to what liturgy does.
This week, as we move through the Holy Week liturgies — whether we go to everything available, or can only make it to the minimum — we will be participating in the most powerful form of mass media in the history of the world.
Yes, smartphones are changing the way people interact and yes, television — whether by cable or satellite or internet — has reshaped the way we live. But neither has come close to equaling what liturgy has done.
By uniting people across nationalities and borders, liturgy has helped build civilizations. By filling people with hope and purpose, liturgy has provided untold social benefits, reducing crime and increasing prosperity. And liturgy has helped each of us personally, bonding our families, reducing our stress, and connecting us to a social network in the real world that is ready to help us in hardship.
This is because liturgy is the ideal mass media.
When we gather at church we sit in the peace and quiet of the most beautiful place we visit each week.
The best churches are made to be not just beautiful, but awe inspiring.
The churches in the part of Kansas where I live were built by monks working with German immigrants. Their stained-glass windows, soaring ceilings and careful artwork reveal the beauty and depths in the hearts of the plain farmer families who made them. When you enter each church you have left the drab world behind and find yourself in a place as close to heaven as the world can get.
So, before a liturgy even starts, the Catholic church gives you an immersive experience that your smartphone can't match.
Then the liturgy starts with one of the most powerful acts human beings ever do: Singing together.
If you have ever sung a song by a campfire — or on a road trip, or around your Christmas tree — you already know how bonding group singing can be.
Now, scientists are discovering why. Jill Suttie, at a Cal Berkeley publication that looks for scientific answers for better living, has tracked down several scientific studies that describe what happens to the human brain when people sing. Group singing floods the human brain with endorphins and oxytocin. People who listen to or perform music together get along better, work better, and feel more fulfilled.
Churchgoers get to experience the benefits of group singing every week at church. Only for us, singing together not only bonds us with each other — it bonds us to God.
We sing "All Glory Laud and Honor," and we are there with Jesus entering Jerusalem. "Ubi Caritas" clarifies what the Holy Thursday washing of the feet is all about. "O Sacred Head Surrounded" brings us by his side at his Passion, and "Jesus Christ Is Risen Today" is as thrilling on Easter Day as "Angels We Have Heard on High" is at Christmas.
Then comes the Liturgy of the Word, returning us to the first and best form of communication: The storyteller.
Early in Mel Gibson's movie Apocalypto, about ancient civilization, an
at a campfire. This is the most primal and effective form of communication there is — so much so that Plato argued that communicating through writing would ruin everything.
Human beings are hard-wired to respond to other human beings. A real, live, flesh-and-blood person commands our attention in a way a screen can't. This is why traditional education is so much more effective than online education — when we are in the room interacting with a real person, side by side with others, our minds come alive.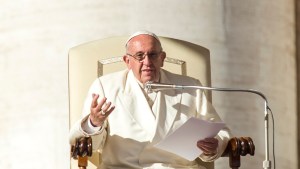 Read more:
The Mass isn't a show, says pope, chiding those who take cell phone pictures during liturgy
Communication also comes down to more than just words. The demeanor and body-language of a storyteller conveys more to us than words alone do.
So, when we listen to a lector or a priest tell us a story, we are experiencing the most fundamental form of human communication.
We are also experiencing the most fundamental form of divine communication. In Genesis, history starts when God speaks: "Let there be light." In John, salvation history starts when "the Word became flesh and dwelt among us."
In the liturgy, the Word becomes flesh in more ways than one.
Jesus Christ walked on earth more than 2,000 years ago, then ascended into heaven. But he is still with us in the sacraments and in the liturgy.
There, in his Real Presence in the tabernacle, he presides over our reenactment of his life using symbols. This is especially clear in Holy Week, when we carry palms, wash feet, venerate the cross, bless a fire, light candles and are sprinkled with holy water, reliving his life together.
To signify his death on Good Friday, the tabernacle is empty, the sanctuary lamp extinguished and the doors left open, leaving a hole in the center of the church like the hole in the center of humanity when Christ died.
As powerful as singing and storytelling are, they pale next to our ritual participation in Christ's redemptive act while in his very presence.
So make the most of Holy Week, and each liturgy. It offers the greatest experience available on earth.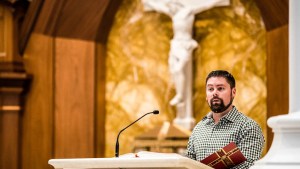 Read more:
Bishop Barron: What is happening at Mass?