Hopefully we have a better sense of sin and its cost. If not, take advantage of the Holy Triduum
If you were really ready for Easter, how would you know? (I'm asking this as a follow-up to my recent Lenten meditation, "4 Signs You Might Be Spiritually Dead.") Let's look at the matter another way and pose it as, How can we know if we're NOT ready for Easter?
First sign
You can't wait to get back to the stuff you "gave up" during Lent. My father was a chronic smoker until it nearly killed him. He marveled at my uncle who could "give up" smoking for Lent: "If I could stop for 40 days, I would stop for good—why go back to it?" Granted, smoking cigarettes is bad for you and it's always the right time to stop. Maybe you gave up some legitimate pleasure, say, chocolate after dinner or watching Father Brown mysteries on the BBC. But if whatever we "gave up" still has the same power and pull over us, then, we need to go deeper in our efforts to be the "new man" that St. Paul preached.
Second sign
You gave little or no thought to your own death during Lent. Before I sat down to write this, I was speaking with a friend who had just returned from a "Celebration of Life" (formerly known as a "funeral") for a colleague at a non-Catholic "faith community" (formerly known in the United States as a "mainline Protestant denomination"). Family and friends stood in the sanctuary and attested to their certainty that the dearly departed was even now dancing and drinking in Heaven with all the family and friends who had preceded her into the next life. My good friend told me: "Father, as far as I know, I'm the only person on this planet who believes that this woman needs to be prayed for."
A culture that treats death as "automatic canonization" for the deceased (a distortion that even self-identified Catholics are not immune to) does not have much to celebrate at Easter, because sin, death, and divine judgment are no longer worthy of consideration. If this is our view, we're surely not ready for Easter, because we no longer need it.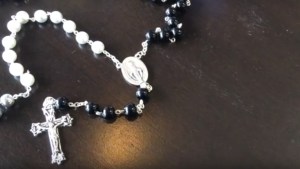 Read more:
Pray for the Holy Souls in purgatory using this fascinating rosary
Third sign
Sin doesn't disgust and frighten you more than when Lent started. Lent, among other things is meant to be an extended meditation on how deadly sin is to humans and how offensive sin is to God. Only when we sense what sin takes from us, and what the remedy for sin cost God (the gruesome suffering and death of his Only-Begotten Son), can we be properly repulsed by sin and flee from it. If we only play at being sinners, we can only play at being saved. We would do well to commit to memory Christina Gabriel Rosetti's poem, "Good Friday":
Am I a stone and not a sheep
That I can stand, O Christ, beneath Thy Cross,
To number drop by drop Thy Blood's slow loss,
And yet not weep?

Not so those women loved
Who with exceeding grief lamented Thee;
Not so fallen Peter weeping bitterly;
Not so the thief was moved;

Not so the Sun and Moon
Which hid their faces in a starless sky,
A horror of great darkness at broad noon—
I, only I.

Yet give not o'er,
But seek Thy sheep, true Shepherd of the flock;
Greater than Moses, turn and look once more
And smite a rock.
Fourth sign
You've never made a sacramental confession of such bitterness and sweetness that you wish to remember it always.
When I taught seminarians, I told them that the only way to be sure that you can be a good confessor is if you first have a solid track record of being a good penitent. Only a man who has vivid and visceral memories of his own need for that sacrament and the liberation and healing it can bring, will have the compassion and generosity needed to be a good confessor. A good priest will walk barefoot through the snow to hear confessions.
At least once in one's life, a penitent ought to hear the words of absolution like a dying man hearing that his execution has been canceled. If those words sound strange or extreme to us, I have to wonder how ready we really are for Easter.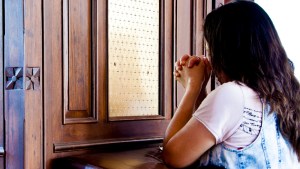 Read more:
The priest ended my confession with this prayer and wow! It's so beautiful!
Yes, Easter is a time for joy—not giddiness, but joy. Such a joy has a sense of solemnity too, when recognized that faithful Christians have been made clean by the shed Blood of the Christ of God. If we are truly ready for Easter, we will recognize as true the closing lines of "The Agony" by poet George Herbert:
Love is that liquor sweet and most divine,
Which my God feels as blood; but I, as wine.
When I write next, I will offer another meditation on the Season of Easter. Until then, let's keep each other in prayer.