For fifth year, Bishop of Rome celebrates Holy Thursday Mass in a prison
For the fifth year, Pope Francis has celebrated the Holy Thursday Mass of the Lord's Supper at a prison, this year one south of Rome at Velletri.
The medium security prison houses 577 inmates, 60% of whom are not Italian-born.
The Holy Father gave his homily off-the-cuff, mentioning a beautiful letter he had received from some of the inmates.
Referring to Jesus washing the Apostles' feet, he said, "He, the Lord who contained in himself all power, carries out the gesture of a slave."
Jesus, he said, then told his disciples to do the same for each other in service.
"Be brothers in service: not in ambition but in service," the pope said.
After the homily, Pope Francis washed the feet of 12 prisoners from four nations. Nine were Italian, and one each from Brazil, Ivory Coast, and Morocco.
In previous years, the Pope celebrated the Mass of the Lord's Supper in the Casal del Marmo, Rebibbia, Paliano, and Regina Coeli prisons.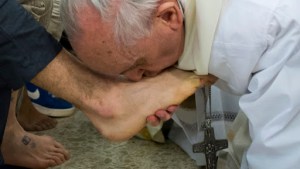 Read more:
Do you think of prisons like this? Check out the pope's surprisingly hopeful outlook
Read more:
Pope reveals who inspires him to spend Holy Thursday with prisoners