This powerful video of pro-life young people has gone viral.
As the state of Illinois is in the throes of debating whether to allow a baby to be aborted up until birth, a powerful video has been posted on Facebook by St. John Cantius Church in Illinois of a group of teen pro-lifers singing the exquisite "Coventry Carol," or as it's also known "The Hymn of the Holy Innocents," that they performed at the State House in Springfield back in 2017.
The post, which has amassed over 220,000 views, calls us to "Listen to our youth sing in the Illinois State Capitol for those lost through abortion …" 

The youngsters from St. John Cantius united with the Crusaders for Life — a grassroots movement of pro-life youth from Chicago and beyond — during a rally in support of the dignity of the unborn two years ago. The 100 activists circled the rotunda inside the capitol building to give an emotional rendition of the hymn that stems from plays in medieval times depicting Herod's massacre of the Holy Innocents based on the Gospel of St. Matthew.
While the melody in itself is moving, it's worth taking a look at the lyrics that reveal the devastating loss of innocents back in the times of King Herod:
Lully, lullay, Thou little tiny Child,
Bye, bye, lully, lullay.
Lullay, thou little tiny Child,
Bye, bye, lully, lullay.
O sisters too, how may we do,
For to preserve this day
This poor youngling for whom we do sing
Bye, bye, lully, lullay.
Herod, the king, in his raging,
Charged he hath this day
His men of might, in his owne sight,
All young children to slay.
That woe is me, poor Child for Thee!
And ever mourn and sigh,
For thy parting neither say nor sing,
Bye, bye, lully, lullay.
So take a minute to lose yourself in this glorious lullaby: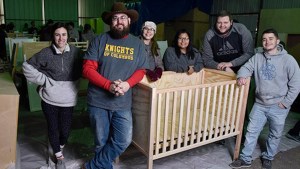 Read more:
The carpenter who teaches his teen apprentices to be pro-life through their trade