Transport yourself to the tabernacle and pray this prayer of love.
On occasion many of us will wake up in the middle of the night and have a difficult time returning to sleep. Interestingly enough, those times of silence when everyone else is asleep offer a perfect opportunity to open your heart in prayer.
Below is one such prayer that is thankful for God's presence in a person's bedroom, but also in the Holy Eucharist in the tabernacle. It presents a beautiful time to consider how Jesus is waiting there for us in the tabernacle. While we aren't able to physically go to him in the middle of the night, we can spiritually transport ourselves to his side and offer a short prayer of thanksgiving.
Great God! Father, Son and Holy Spirit! I adore thee truly present here by thy immensity, which fills all space; and I rejoice with adoring love and gratitude, that in thee we live, move and have our being. Then, in spirit before the tabernacle, say:My Divine Jesus, lover of humanity, I thank thee for thy tender and loving condescension, in remaining with us day and night! O Angels of our sanctuary! Love, praise, and adore my Jesus for me.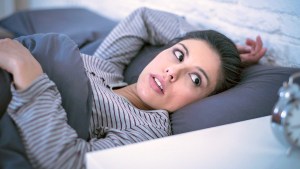 Read more:
Got insomnia? Here's a meditation for when you can't sleep
Read more:
Want to sleep peacefully? Pray this prayer of the night