Jesus appeared multiple times on the day of his resurrection, and spiritual writers have reflected on the symbolism of each over the centuries.
When reading the Gospel accounts of Jesus' resurrection, it's sometimes easy to miss the fact that Jesus appeared multiple times to various people on the day of his resurrection. According to the Golden Legend, a medieval text that compiled various traditions that the Catholic Church has handed down over the centuries, Jesus appeared five times on Easter Sunday, and each appearance has a secondary spiritual meaning.
Read more:
Did Jesus visit his Mother first on Easter morning? Here's why JPII said "probably so"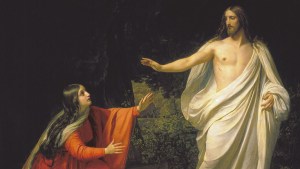 Read more:
How many times did Jesus appear after his resurrection?