St. Faustina's spiritual director had a primary role in bringing her mystical visions to the whole Church.
While many are familiar with St. Faustina and her Diary, in which she recounts private revelations she was given by Jesus Christ, few are familiar with the priest who first believed her and was instrumental in spreading the message of Divine Mercy.
His name was Fr. Michael Sopocko, and was assigned in 1933 to be a confessor at the convent of the Sisters of Our Lady of Mercy in Vilnius. He would meet Sister Faustina in the confessional, and from then on his life was dramatically changed.
Prior to his arrival, St. Faustina was receiving mystical visions of Jesus and no one believed her. It was a heavy cross to bear and she prayed to God that someone would be sent to her to help sort through everything and transmit the messages she was receiving.
Faustina wrote in her Diary how her prayer was answered.
[Jesus] had promised me visible help here on earth, and a little while later I received it in Vilnius, in the person of Father Sopocko. I had already known him before coming to Vilnius, thanks to an interior vision. One day I saw him in our chapel between the altar and the confessional and suddenly heard a voice in my soul say, This is the visible help for you on earth. He will help you carry out My will on earth. (Diary, 53)
Initially the heavenly visions of St. Faustina were difficult to believe. Sopocko was initially skeptical and did not give his full approval of them. He was worried that the visions were revealing a heretical teaching.
However, after doing some more research into this concept of God's Divine Mercy, Father Sopocko no longer had any doubts, as can be seen in a recollection he wrote years afterwards.
I began to search in the writings of the Fathers of the Church for a confirmation that this is the greatest of the attributes of God, as Sister Faustina had stated, for I had found nothing on this subject in the works of more modern theologians. I was very pleased to find similar statements in St. Fulgentius, St. Ildephonse, and more still in St. Thomas and St. Augustine, who, in commenting on the Psalms, had much to say on Divine Mercy, calling it the greatest of God's greatest attributes. From then onwards, I had no serious doubts of the supernatural revelations of Sister Faustina.
Sopocko preached his first sermon on Divine Mercy on Friday April 26, 1935, and revealed the first image of Divine Mercy painted by Eugene Kazimierowski on Sunday, April 28, 1935, which was the Second Sunday of Easter, the day Jesus asked to be named "Divine Mercy Sunday."
For the remainder of his life Sopocko spread the message of Divine Mercy, and his actions were instrumental in creating a firm foundation upon which others would build. Jesus said to St. Faustina how he believed Fr. Sopocko was a priest after his own heart.
[H]e is a priest after My own Heart; his efforts are pleasing to Me. You see, My daughter, that My will must be done and that which I had promised you, I shall do. Through him I spread comfort to suffering and careworn souls. Through him it pleased Me to proclaim the worship of My mercy. And through this work of mercy more souls will come close to Me than otherwise would have, even if he had kept giving absolution day and night for the rest of his life, because by so doing, he would have labored only for as long as he lived; whereas, thanks to this work of mercy, he will be laboring till the end of the world. (Diary, 1256)
Fr. Sopocko was beatified on Sunday September 28, 2008, after Pope Benedict XVI approved a miracle through his intercession.
Read more:
Here is St. Faustina's description of her Guardian Angel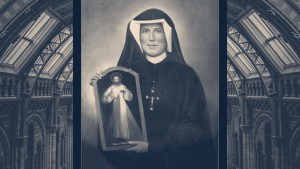 Read more:
25 Secrets of spiritual struggle that Jesus revealed to St. Faustina