Turns out that good fences -- both literal and metaphorical -- really do make good neighbors.
When we moved from Las Vegas to Naples, Florida, I had no idea how to be a good neighbor. We had always lived in apartments, and while we knew other people in our complex, we weren't exactly on borrowing-sugar terms. In fact, the only reference point I had for neighborliness was the vague notion that if you baked cookies for new neighbors, you could then borrow ingredients as needed.
Needless to say, I learned a lot pretty quickly — mostly about what not to do if you want to be a good neighbor, and what to do instead. So here are four practical dos and don'ts for mastering the art of neighborliness…
Don't presume or assume
As it turns out, just because someone lives next door doesn't mean they're perfectly willing to lend you a cup of sugar … especially if you tend to regularly run out of ingredients at crazy hours. I assumed that ingredient-swapping was par for the course, and learned very quickly that neighborly kindness and generosity are not to be presumed upon.
Which is not to say that my neighbors were ever rude, or unwilling to lend me ingredients — it's just that the warmth faded fast. Luckily, I'm not completely socially incompetent and I quickly course-corrected and stopped borrowing ingredients at the last minute. I also replaced the ones I had borrowed (x10), which helped gradually restore the initial warmth and friendliness my neighbors had extended me.
Do be courteous and conscientious  
There were actually many people in our neighborhood who had the same ingredient-swapping mentality as I did, and once I figured out who was who, our kids ran back at forth nearly every afternoon shuttling half-cups of sugar or teaspoons of paprika. My mistake wasn't necessarily that I asked to borrow ingredients — it was that I wasn't courteous enough to carefully build a foundation of friendship and mutual understanding first.
Courtesy is the golden rule, but it's guided by conscientiousness. Be thorough in thinking through the way you build relationships with your neighbors, and think carefully before presuming upon their generosity.
Don't ask for favors you're unwilling to return 
This was a subtler lesson that took me several months to learn. Going from a serious dearth of mom friends to a neighborhood bursting with fellow stay-at-home moms was a culture shock, and I had no idea how that culture worked. I figured there was frequent child-swapping, with one mom watching some kids and then the other mom taking a turn.
That did happen … between moms with established friendships, whose family dynamics worked well together. But most of the moms there had many children, and their schedules were full to the brim. Unexpected playmates weren't always a welcome surprise — which I learned both by doing and by experiencing. Sometimes just one child (no matter how wonderful and well-behaved!) can throw the dynamic of the whole household off, throwing your family's day off the rails. Inviting other children over was something that I learned to plan carefully for … and in return, there was always reciprocation and appreciation.
Do be aware of boundaries and be honest about your own  
A few short weeks after we moved, I had my first prenatal appointment for my fourth baby and no childcare available for my toddlers. I asked my next-door neighbor if she could watch them — which would have been a significant time investment since the nearest obstetrician was an hour away. She politely but firmly refused, explaining that she couldn't sacrifice that time in which she had her own family to take care of.
I'll be honest, I was taken aback at first. But as the years went on, I learned to appreciate that simple, polite act of boundary-setting for what it was: an act of kindness. She was letting me know where her boundaries were, which was actually a generous thing to do because it helped me learn not to overstep them. I admired the way she had handled the situation so much that I later used almost her exact same words when I found myself in a similar situation, and was relieved to learn that it had the same positive effect.
Robert Frost knew what he was talking about when he wrote that "good fences make good neighbors." All these tips essentially boil down to learning how to respect others' boundaries and set your own, which is absolutely vital in establishing peaceful, harmonious relationships with mutual trust and generosity. So when you're thinking about how to be a good neighbor, think first about respecting boundaries — both your neighbors' and your own.
Read more:
What an entire neighborhood did to communicate with a 2-year-old girl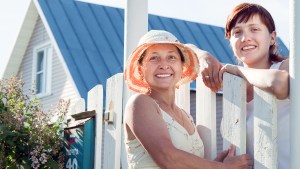 Read more:
Why good fences make good neighbors