It's worth examining the prayers we pray so rotely, investigating which lines we might prefer to skip if we really paid attention.
What can God do in your life with one Bible verse a day?
Subscribe to Aleteia's new service and bring Scripture into your morning:
Just one verse each day.
Click to bring God's word to your inbox
This weekend, churches across the world displayed an image of Jesus that was given to St. Faustina Kowalska in 1931. He has rays of red and white emanating from his merciful heart and a look of earnest entreaty, begging even the most hardened sinners to come home to the Father.
And underneath the image, these words: Jesus, I trust in you.
It's a beautiful sentiment, one that I repeat over and over, especially in times of great difficulty.
The trouble is that I don't.
I don't trust him. Not really. I try to, but really I want control. I want to call the shots, for my life and (if we're being honest) for everyone else's. I want to demand very particular things from the Lord and I want to berate him when his plan and his timing aren't exactly to my specifications.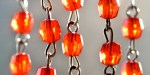 Read more:
There's a hidden prayer in the final petition of the Hail Mary


I have the same problem when I pray, "Thy will be done." I pray those exact words a dozen times a day, but I don't really mean them. In my most raw and honest moments I'm able to admit that I want God to approve and enact my will. I don't really want his will.
So why keep praying things that aren't true?
Because I wish they were.
I wish I trusted him, really trusted him. I wish that when things went wrong, I didn't immediately panic or rage or mope. I wish I weren't so insistent on having my own way. So I pray what isn't yet true in the hopes that he will make it true, in the hopes that my act of the will might transform my feelings.
Because ultimately, feelings don't much matter; not in terms of sin or virtue, anyway. God can't command us to feel one way or the other because we can't control how we feel. He commands us to choose, to pray "thy will be done," to pray "Jesus, I trust in you," not because we feel absolutely content with uncertainty and lack of control but because we want to love him more than we love ourselves.
It's not dishonest, this repeated praying of things we don't feel. Just like it's not fake to act the way we wish we felt, toward toddlers or in-laws or appallingly slow cashiers. When we pray these prayers, we ask the Lord again and again to conform our hearts to his, to make us desire what he desires for us.
It's worth examining the prayers we pray so rotely, investigating which lines we might prefer to skip if we really paid attention. Perhaps we don't really want our guardian angels to rule and guide us. Maybe we'd rather not think of God as Father. Possibly the idea of giving God glory for the wreck that is your life chafes at your slightly bitter heart. Or perhaps it's the words of the Mass, the humble admission that I'm not worthy for the Lord to enter under my roof or the plea that God save us by his cross and resurrection.
There is something beautiful in the fact that we know these words, these masterful, poetic, transcendent words so well that we can echo the angelic salutation to the Mother of God without batting an eye. But there would be something more beautiful in attempting to listen to the words that roll so easily off our tongues, words that might just take our breath away if we heard them for the first time.
This week, spend some time looking at the prayers you offer mindlessly, the Our Father or the Hail Mary or the Act of Contrition or the responses at Mass. Find a line that rings false to you, that you feel you don't fully mean. Then take just that line—"as we forgive those who trespass against us" or "I detest all my sins" or "lead all souls to heaven"—and pray about it and pray through it and just pray it, intentionally and earnestly, asking the Lord to conform your heart to his so that maybe one day you'll truly mean it.
Read more:
What to do if you don't feel like doing your resolutions