St. Peregrine himself received a healing and lived a long life.
Need an idea for Lenten almsgiving?
Help us spread faith on the internet. Would you consider donating just $10, so we can continue creating free, uplifting content?
Make a Lenten donation here
Cancer … each year it claims millions of lives. And its very utterance strikes fear in the hearts of millions more.
Few instances call for a patron saint as urgently as a cancer diagnosis. So it comes as no shock that there is a patron saint – St. Peregrine Laziosi – for cancer sufferers. What is surprising, though, is Peregrine's relative lack of fame.
Peregrine, whose liturgical feast day is May 4, was born in the year 1265 (some sources say 1260) in the northern Italian city of Forlì. He was the only son of a prominent family, which, like many such families in that era and region, was caught up in a hectic political atmosphere.
Peregrine's family was much opposed to papal authority, and he himself felt so strongly about the matter that when the Papal Ambassador visited Forlì, Peregrine – then a young man – struck him in the face. Instead of showing any resentment, however, the Ambassador offered immediate forgiveness to his assailant.
Peregrine was so affected by this sudden act of forgiveness that he changed forever. Instead of engaging in further anti-papal activities, he joined the Order of the Servants of Mary (also known as the Servites).
After serving with the Servites in Siena, Peregrine was sent to his hometown of Forlì to help establish a Servite order there. He would remain with the Servites in Forlì for the ensuing five decades of his life.
Though earlier accounts of Peregrine's life say that he was ordained a priest while with the Servites, Aristide M. Serra, O.S.M., author of St. Peregrine Lazliosi, Servant of Mary, contends that Peregrine was never ordained.
Either way, Peregrine worked tirelessly on behalf of the sick and destitute. Additionally, he kept vigils, fasted, sometimes self-flagellated, and most extreme of all, went very long periods without sitting (during which time he slept by leaning against a wall). Some sources, in fact, have reported that he stood for 30 consecutive years.
Though this 30-year figure is likely best regarded in the metaphorical sense, it is true that he pursued his penitential regimen to a physically unsafe degree. As a result of his standing for excessively long periods, Peregrine developed an ulcerative growth on his right leg when he was about age 60.
This leg became swollen, gangrenous, and emitted an odor that made assisting him almost unmanageable. The medical opinion was that there was nothing to do but amputate the leg in order to save Peregrine's life.
On the scheduled day of amputation, the doctor came to visit Peregrine, but was received with the announcement that his medical services were no longer needed. The doctor initially thought that Peregrine had fallen into delirium, but when he went to examine the long-suffering leg, he saw that it somehow had returned to a normal state.
Peregrine told him, "See with your own eyes, and understand whom I have had as my doctor." Indeed, the man of medicine pronounced the healing as a miracle.
Read more:
Another saint of impossible causes: He brought about hundreds of miracles even in his lifetime
There is scant information about Peregrine's life subsequent to his healing. Serra's book says that he died of a fever shortly before the age of 80.
Peregrine was beatified by Pope Paul V in 1609. And, following the investigation of several miraculous cases of healing attributed to Peregrine, he was canonized by Pope Benedict XIII in 1726.
Because cancer rates increase with age, the vast rise in life expectancy since the time of Peregrine's death have made cancer a far more likely reality for inhabitants of our modern world.
Peregrine is someone whom "we can ask to intercede for us and tug on the hemline of Jesus," in the view of Anthanette Donaldson, who works in Pastoral Care and Cancer Ministry at Christ the King Church in Mesa, Arizona. Since 2009 her church has had a St. Peregrine shrine.
She says it's true that most Catholics don't know about St. Peregrine until they, or someone they love, receives a cancer diagnosis. Some of the visitors to the Peregrine Shrine have even told her how they had no idea they lived near such a place until a diagnosis led them to search online for a relevant patron saint. Then they learned there was a Peregrine shrine just "10 minutes" away.
Though Peregrine's liturgical feast day is May 4, he is commemorated on May 1 in his Italian hometown. On this day, many residents there consume citrons – a fruit much-admired by Peregrine – and pray that he protects them from cancer.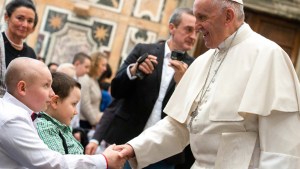 Read more:
Pope tells children with cancer: Talk to your guardian angels