It might sound odd, but prayer and exercise go together perfectly -- almost as though they were made that way!
Everyone knows that exercise is something our bodies need, and we're rapidly learning just how important exercise is for our minds as well. But what doesn't often get discussed is how beneficial regular exercise is for our souls.
Humans aren't made of three distinct parts — body, mind, soul; we're completely integrated and all three are inseparable from one another. As such, what affects the body affects the mind and the spirit, and vice versa. While developing spiritual disciplines like regular prayer, formational reading, and the reception of the sacraments is vital to our well-being, so is developing physical disciplines as well.
It shouldn't be surprising, then, to learn that prayer can be integrated seamlessly with any type of physical activity — from Pilates to CrossFit. You just need to find the right style of prayer to match your activity. Here are three different ways to do that:
Match the mood
Different types of exercise create different emotional states for different people. Running can be a time of contemplation and meditation — I have many friends who swear by long runs to clear their minds. For me, however, running is a matter of sheer willpower — it's the least meditative state I can imagine being in.
I do find other exercises conducive to meditation, though, Pilates being one. For me, it is particularly suited for meditation on the mysteries of the Rosary, something one of my friends does daily on her 5-mile run. The key is to be aware of the emotional state different activities create for you, and then find a prayer that matches that state.
Match the rhythm
Speaking of running, one of the most difficult things for me is learning to pace myself. Both my stride and my breathing must be controlled and steady in order to run long distances, and I've resorted to various techniques to achieve that control. I stumbled upon one of the best ones accidentally, when I was saying a daily Chaplet of Divine Mercy and paired it with my run. The rhythmic pace of the words helped me to pace my run, and my prayers of begging for mercy matched my mood!
We're blessed with a treasury of prayers to draw from. Even something as simple as "Christ, have mercy" can match the rhythm of rowing or using the elliptical. Longer, more complicated prayers that vary in rhythm could pair well with a long bike ride or a hike. As soon as you start your activity, begin trying different chaplets or litanies. You'll find the right one quickly and effortlessly.
Match the intensity
As much as we love our wealth of traditional prayer options, there's something to be said for spontaneous prayer as well — especially when you're trying to pray your way through a CrossFit WOD or a Spartan mud run. High-intensity exercise occupies our minds almost completely, leaving little room for reciting prayers or even repeating short litanies. What is good during these types of intense, demanding activities is to find one thing to focus on when you're struggling.
It could be a two-word prayer directed to God, like "Thank you." When you feel like you can't possibly jump that box one more time, try saying "Thank you" and focusing on your gratitude for the ability to do the thing you're about to do.
Or it could be calling to mind a saint you feel close to, and a moment when they overcame a seemingly insurmountable obstacle. Whatever works to connect your soul with your body and get both through that moment is a powerful prayer.
So while it may sound odd at first, prayer and exercise actually go together perfectly. Praying can enhance your activity just as much as the activity can enhance your prayer, because you're praying with your whole being — body, mind, and soul.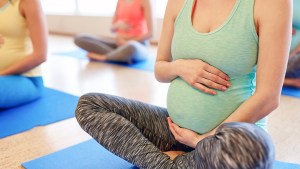 Read more:
The best exercise to do when you're pregnant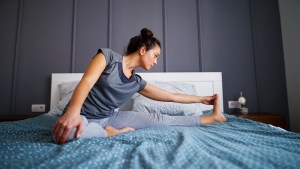 Read more:
3 Quick exercises to build into your day when you're too busy to work out