May is known as "Mary's Month" and features many minor feasts that are not well known.
May has been known as "Mary's Month" for many centuries, so it should not be surprising that various Marian feast days occur throughout the month. However, there are only a small number of universal celebrations, while a vast majority of the Marian feasts in May are only commemorated at a local level.
Here is a slideshow of eight of these lesser-known Marian feasts that highlight various apparitions of the Blessed Virgin Mary or were instituted by local Churches throughout the world.
Launch the slideshow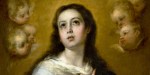 Read more:
Why is May called "Mary's Month"?