I never knew just how significant this aspect of my marriage was to my well-being.
If you had asked me on my wedding day 15 years ago why I was heading down the aisle, I'm sure I would have sung the praises of romantic love, the wonder and delight of being head over heels for another person. I probably would have gushed, too, over the benefits of companionship and the blessing of bringing children into the world. But now that I've been married a decade and a half, there's another aspect of marriage I never expected would mean so much to me, something no other relationship could ever offer — a deeply intimate level of accountability.
Over the years, I've realized I'm simply a more disciplined person when my husband is around. It's not that I'm putting on a show or feel pressure to "be good" under my spouse's watchful eye. It's that having a partner spurs me on to live the best version of my life, knowing it's lived with and for someone else. So although I might sometimes daydream about the pleasures of the single life—the total self-determination or the ease of letting housework slide—if I'm honest, I truly value (and probably need) a partner to keep me in check.
I first realized this when my husband began to travel for work. Left to my own devices, I found my parenting of our three kids taking a nosedive. Granted, single parenting, even temporarily, is undeniably stressful. But a spike in stress isn't the only thing that erodes my mommy loving-kindness when I'm the only parent present. With no second pair of eyes on my interactions with my kids, I tend to "let it all hang out"—and not in a good way. Little frustrations quickly escalate into major issues, and before I know it, I've screamed myself hoarse or said hurtful words I can't take back. Having my husband as a co-parent gives me a confederate to discuss discipline with, or to ask to step in when I've gone too far. Even if all he offers is a listening ear to vent my frustrations to, that's a crucial service I know I need.
Without a partner around, I've also noticed my tendency to get a bit lax when it comes to the care of our home. Who cares about a clean house when it's just me and my grade school-aged kids? They're certainly not complaining when I "forget" to make them put away their dirty socks. But while it may not be a serious failing to let a mess pile up, eventually a sink full of dishes and a living room littered with Nerf darts take a toll on my mental health, and I realize I probably should have taken care of them sooner. A fellow stockholder in the home keeps me alert to the state of my environment—and everyone benefits from the cleaner, tidier home that results.
While I can sometimes give myself a pass for relaxing my cleaning standards when my husband's away, often deeper matters are at stake. How do I spend my free time when there's no one around to see? I'll waste hours on a marathon of lame TV I don't even care about or sit glued to social media on my phone. And when I'm flying solo for a week or two, I don't always take care of myself like I normally would, either. Cake for dinner with an extra glass of wine — why not? With my husband present, though, I'm reminded that someone else in this world has an investment in my body—its health and its appearance—motivating me to do right by my physical self.
Finally, I find having a partner keeps me accountable to make better decisions. Alone, I get lost in the echo chamber of my own thoughts and beliefs. My husband brings a unique perspective and a different type of wisdom that helps me see decisions from a fresh angle. When I wonder if it will be too hard on our family if I take on another big work project, or whether I need to have a difficult confrontation with a friend, the person who knows me through and through offers the best insight on such questions.
Our job as Catholic spouses is to help each other reach heaven. Lovingly keeping each other on track physically, mentally, and spiritually paves this path to holiness. So while romantic love, financial security, or having someone to "Netflix and chill" with may all be nice perks of a partnered life, I've come to believe that accountability is the secret weapon—and unsung hero—of my marriage.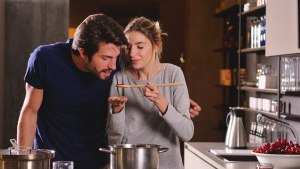 Read more:
3 Tips for nourishing your marriage on a daily basis
Read more:
Should you prioritize your marriage over your children?