It may seem like an exaggeration, but a good ole fashioned stroll around the neighborhood is a simple way to better your life.
Need an idea for Lenten almsgiving?
Help us spread faith on the internet. Would you consider donating just $10, so we can continue creating free, uplifting content?
Make a Lenten donation here
The philosopher Immanuel Kant had a famously intense attachment to his daily walk. Wearing a threadbare coat that he refused to replace, he left his house at the exact same time each day and marched up and down the neighborhood street exactly eight times, about four miles in total. This was his time to decompress from the strain of his writing and a way to improve his circulation. So dedicated was Kant to his walk that his neighbors were said to set their watches by it.
Whenever I want space to think, I do something physical, too — I run, go for a bike ride in the countryside, or take a walk. It isn't so much that I compose intricate homilies or think through the details of my taxes, but when I get outside and move, my mind becomes quiet and peaceful. It may take a mile or so for my frantic brain to slow down, but soon I start noticing a new bird's nest with blue eggs in it, and the pink peony buds about to burst, and I hear the cicadas in the trees that have emerged from their burrows and are making the most of their one glorious, golden summer. Whatever emotions or stress I may be carrying dissolve by some unspoken miracle while I gaze at the clouds powdering the sky.
There's something about physical motion and a very natural, human pace that encourages contemplation. The body is busy but measured, leaving the mind free to roam. Whatever ails you, there's a good chance a walk can fix it.
We can all find plenty of information about the health benefits of walking, but what might be surprising are its many mental and spiritual benefits. Here are a handful of examples of what it helps us with.
1
Pray better
I walk circles around the inside of my church to say my prayers, and have paced the perimeter so much I think I've worn a path in the tile. I have a very difficult time concentrating during prayers, but walking helps tremendously. More specifically, though, walking itself can be a form of prayer. This is why in the Church we have all sorts of processions like Corpus Christi, Palm Sunday, or Stations of the Cross. We pray physically every bit as much as we pray mentally.
2
Have more intimate conversations
All my best conversations have taken place while on a walk. I almost wonder if the act of moving forward helps propel a conversation in a positive direction, but there is something very comfortable and intimate about taking a walk with a friend or lover. Side by side, you are making your way through life together.
3
Know our neighbors
We've met tons of our neighbors by taking walks around the block or by seeing them as they walk past our house. People stop and wave, pause for a quick talk about the beautiful magnolia tree, or remark on how beautiful our children are. These interactions would never happen from cars or if we all stayed inside. Walking has made our neighborhood a safer, more friendly place.
3
Lower your stress
It's interesting that sitting in traffic is the biggest cause of stress in our lives, meaning that one form of transportation is killing us while another, walking, has uncountable benefits. If you can't get rid of the auto commute, at least you can reduce the stress by taking a walk. There's always a few minutes at lunch or after work for a stroll.
4
Combat depression
Studies show that walking may help manage depression. It won't be a magic cure and, by all means, follow your doctors' orders, but I can say from personal experience that regular sunshine and physical exertion has very much helped me with my depression issues.
5
Re-energize your mind
Brain fatigue is a condition caused by over-stimulation by noise, to-do lists, television, and generally having too much sensory input. It can make you forgetful and cause trouble with focus. An easy way to alleviate brain fatigue is a walk in the park.
6
Think more clearly
Because walking gets the blood moving and helps with cellular healing, it actually helps your brain stay young. There's also a fascinating connection between the pace of our bodies and the pace of our thoughts, meaning that if you want to think deliberately and calmly, you'll want to take a walk.
7
Make a pilgrimage
I once rode my bicycle four-hundred miles to visit the shrine of Our Lady of Guadalupe in Wisconsin. Once we got there, the shrine itself was at top of a large hill only reached by a long, uphill walk. The experience was far more fulfilling for the tremendous effort I put into it. Life is a journey, and nothing makes that more clear than a pilgrimage you make on foot.
Knowing the practical benefits is a great motivator for taking a walk, but do we really need a specific purpose? It's a luxury to be able to stroll through the park with your children, to walk down to the coffee shop, to soak in the sunshine. The point isn't necessarily to become a metronome like Immanuel Kant and walk precisely the same way each day. If that works for you, great, but if you simply want to go out for a random stroll on a Sunday afternoon, that's a walk worth taking.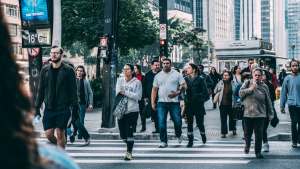 Read more:
Here's a prayer for when you are walking down the street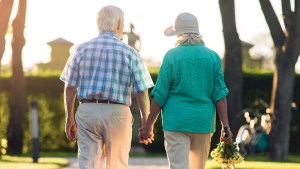 Read more:
One couple's secret to a happy marriage: Walking around the block