Expert claims the Veil at Manoppello matches perfectly with the image on the Shroud of Turin.
Above the altar at the Shrine of the Holy Face in Manoppello, Italy, there is an ornate silver frame that encases a small transparent cloth. At a glance, the cloth isn't nearly as remarkable as its protective case, but when light is shined onto it, the cloth reveals the face of a bearded man with eyes open.
Those devoted to the Manoppello veil claim it to be the true relic of Veronica's veil. It is believed that the relic was secreted away from Rome after it was sacked in 1527, on the orders of Pope Clement VII. The veil made its way to the small town in Abruzzo, Italy, where it has remained for the last nearly 500 years.
While there is no Gospel account of a woman wiping Christ's face as he carried the cross, the Sixth Station of the Cross is known as "Veronica wipes the face of Jesus." The Trenton Monitor reports, as legend goes, Veronica took the veil to Rome in order to gift it to St. Clement, one of the early popes.
At Saint Peter's Basilica, there is another image of Christ's face, also thought to be Veronica's veil. This relic is brought out for display each year at the 5th Sunday of Lent for veneration by pilgrims. German journalist Paul Badde, however, is convinced the relic at the Vatican, which has been venerated for 400 years, is merely a copy.
Perhaps the confusion comes from the secrecy behind the veil's transport to Manoppello, where few knew about it until the Capuchin priest Father Domenico di Cese made it his mission to spread awareness of what he believed to be the true relic of Veronica's veil.
Father Cese's belief stemmed from the first time he viewed the relic. While still a fledgling priest in the 1930s, he saw the image of Christ and found that it was the same man who saved him from the rubble of a church that was felled by an earthquake in 1915, when he was a child.
Father Cese died in 1975, but the veil did not come to the public spotlight until 1999, when Jesuit Father Heinrich Pfeiffer, an art historian at Rome's Pontifical Gregorian University, claimed it was the authentic relic. Father Pfeiffer claimed that the image on the Manoppello veil could be perfectly superimposed over the image on the Shroud of Turin, believed to be the burial shroud of Christ.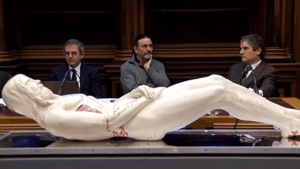 Read more:
This 3D "carbon copy" of Jesus was created using the Shroud of Turin
The Vatican does not formally recognize the authenticity of the Manoppello Veil or the Shroud of Turin, but has not stopped thousands of pilgrims from visiting these relics for veneration. In fact, Pope Benedict XVI became the first pope to venerate the veil at Manoppello, in 2006.
Badde told CNS that Pope Benedict was interested in the veil after reading a book about it. Apparently his decision to visit Mannopello was met with "enormous resistance in the Vatican." Still, Pope Benedict made his journey to the small hilltop town, calling the trip a "private pilgrimage."
Pope Benedict XVI did not make any pronouncement of the possibility of the veil's authenticity. Instead he told the priests and faithful who packed the church for the pontifical visit that those who seek the true face of Christ could find it in their brothers and sisters, "especially the poorest and those most in need."