Since I used to be a great student, I expected my son to be the same -- but here's what I learned.
Without wanting to boast, I think I can honestly say that when I was growing up, I was always an ideal student. I paid attention in class, I studied a lot, and I got good grades. I loved (and still love) to study. I was always sure that my education would be key to my future.
I've tried to pass this on to my children. I read every day my youngest son, who is just one year old. I did the same with the eldest, who is now 11. I'm also sending him to one of the best schools in my city, here in Brazil, even though it requires an extra financial effort from me and my wife. As my own father used to say, "Education is investment."
However, a while back my oldest son started to get low grades. He failed Portuguese, my favorite subject! His poor performance left me frustrated, not to say outraged. I felt even worse when I received a message from the school saying that he would have to take remedial classes to prepare to retake some exams. That's when I began to think, "I never upset my parents like this …  How can someone who does nothing but study all day, and who sees how much we have to work to pay for his education, repay us with such an insult?"
It took me a few days, but I came to recognize my mistake. I asked God to forgive me for thinking that way. Then, I tried to understand what was really going on, instead of falling back on punishment, arguing, and shouting.
I sat down to talk with my son, in order to find out if he was going through some sort of problem that was affecting his studies. I didn't discover anything unusual, though; just some everyday difficulties with some subjects.
So, I took a different route: I asked the school how my son was behaving in class. There too, everything turned out to be normal.
After that, I realized that yes, I should take an interest in my son's performance at school — this kind of involvement is healthy and right. However, I also realized that his less-than-stellar performance shouldn't frustrate me.
So how did I come to this conclusion, which was anything but easy for me? By thinking about these four very important factors:
1
My son isn't the same as me.
Thanks be to God, we're all different, each of us with our own qualities, such that we complement each other within the family. In fact, my son's better than I am at some things, such as at playing soccer and making new friends. So, why should I demand that he behave just like I did, and get grades as good as mine were?
2
Grades aren't everything.
Grades are, in part, just a snapshot of a moment in time. Of course, if my son prepares well and doesn't get too nervous when taking a test, he has a better chance of getting a good grade. But I have some extremely intelligent friends who needed more than one try to pass their final exams, because when it came the moment, the pressure got under their skin and their mind went blank. On the other hand, I also have friends who were terrible students, who got low grades at school, and who nonetheless are brilliant professionals today.
3
Pressure doesn't do any good.
That's why I believe I'm partly to blame for my son's poor performance. I was always pressuring him to get good grades. But now I know that pressure to perform can do more harm than good.
4
Challenges are also opportunities.
Each one of us finds some subjects easier than others. Academic challenges aren't a roadblock to our development, but rather opportunities which, if faced with extra study and supplemental help, lead to intellectual growth. My son failed Portuguese, but he aced English class. Need I say more?
In the end, after processing all of this, I feel better able to help my son in whatever challenges may come, without putting him under pressure and without getting frustrated. And this is how I'm going to motivate him: recognizing his difficulties and his efforts, respecting his limits, making myself available to help him, and above all, loving him. Always!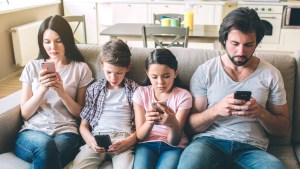 Read more:
This is what my family is doing with smartphones and tablets, and why
Read more:
4 Things your child's teacher would like you to know