And how to find the Resurrected Christ wherever we look.
Are you still trying to force yourself into becoming "overcome with Paschal joy"? As I've written before (HERE; HERE; and HERE), the Easter season isn't a time to work ourselves up into an emotionally fevered pitch, only to slide into what the liturgical committees have designated in the Novus Ordo Missae as the high poetry of "Ordinary Time." The Resurrection of Christ is an event, a fact that redefines all of creation and human history. It's the decisive element of the Church's proclamation of the Gospel. And yet, somehow, we can't quite seem to figure out how to live faithfully in the post-Resurrection world. If Easter isn't about mandated giddiness, then, what is it?
Easter teaches us that the Resurrection of Christ radiates across the past, present and future. It determines how we ought to view our past sin, what we ought to do in the present, and what we may hope for.
So, the first step towards living Easter not as a season but as a way of life isn't to relegate it to the past (e.g., "Christ is risen—but that was a long time ago and now we're on our own").
Likewise, we mustn't attempt to contain Easter to the mere "now" of just a season (e.g., "Keep on cheering till Pentecost—then shut up and get back to work").
And, we mustn't push off the meaning of Easter into a distant future over the horizon (e.g., "Christ is risen—so we have a vaguely described happily-ever-after to look forward to, or something …").
Easter is the connecting thread of our past, present and future. If we can see that, then we're more likely to recognize the presence of the Risen Christ—and then we might be able to talk about a more-than-merely-passing "Paschal joy."
Looking at the past: Christ Risen doesn't cancel the enduring reality and meaning of Christ Crucified. Be wary of anyone who speaks this way: "There was the cross—BUT, there is the resurrection." The constant preaching of the Church insists that where Christ Crucified is found, Christ Risen is also to be found. The Resurrection isn't a divinely-added dessert to Christ's suffering or to ours.
Suffering and death—borne with love and trust to the end, in imitation of and in union with Christ, that way, and that way only, leads to a share in Christ's victory over sin and death. Death didn't stop being painful, and sin didn't stop being scandalous, just because Christ is risen. Instead, sin and death needn't have an inevitable and unbreakable grasp of human life. If we get that right, moving from the past, we can go forward lucidly into the Christian present.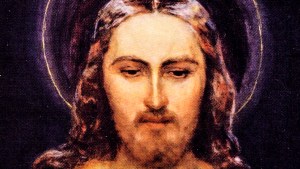 Read more:
Praying this litany will give you peace about the past and future
Looking at the present: Looking at the past, seeing that Christ Crucified is Christ Risen, we can find Christ Reigning even in the present, where mandatory emotions make no sense, a present where evil doesn't appear to acknowledge Christ's victory. In the present, we can meet Christ Reigning in the life of the Church, especially in the Gospels, and in the sacraments, particularly in the Eucharist. Moment-by-moment, Christ Reigning offers Himself to us as the Way, the Truth and the Life. Moment-by-moment, and above all in the Eucharist, Christ invites us to conform our minds to his, conform our hearts to his, conform even our flesh and blood to his. Living for and from that invitation, we can clearly and joyfully face the future with hope.
Looking to the future: Looking at the present, seeing that Christ Crucified is Christ Risen is Christ Reigning, we can see that Our Blessed Lord is also Christ Returning. He has gone ahead of us (which we properly give thanks for at the celebration of the Ascension). The glorified humanity of Christ stands forever before the Heavenly Father. This is an icon of what awaits all faithful Christians who have been conformed to Christ body and soul—an icon reflected by Our Blessed Mother since the time of her Assumption into Heaven. That glorious future is constantly beckoning us forward to our only true home, where already a banquet is prepared for us. Looking to such a future will help us to yield to the power of the Holy Spirit breathed into the Church at Pentecost, a power that can bear us up into Heaven.
Read more:
The Assumption helps us understand what we are as humans, suggests Pope Francis
If we meditate on the Scriptures and immerse ourselves in the coming Solemnities (including the Ascension, Pentecost and the Assumption) then our lives can make sense, and we can live the graces of Easter, not as a mere season, but as the defining reality of our lives and all of creation. And that's worth celebrating—whether we feel like it or not.
Read more:
How can you pray so the Holy Spirit will come?
When I write next, I will continue our reflections on the Easter season. Until then, let's keep each other in prayer.