Meghan, Duchess of Sussex, just gave birth at 37. What are the risks and benefits of giving birth when you're older?
Meghan, Duchess of Sussex, is 37 years old. Technically, that means her pregnancy was considered "geriatric," the name for any pregnancy when a mother is 35 or older.  "Geriatric pregnancy" isn't the most flattering phrase — doctors are starting to call lit "advanced maternal age" instead — but either way, it's not as alarming as it sounds.
Prince Harry told the press that the baby was "a little overdue," but the baby and his mother are both doing "incredibly well." Their son, born at 5:26 in the morning on May 6, was a healthy 7 pounds, 3 ounces, and the couple is delighted about the gift of their son. 
But just how unusual is it to have a baby in your late thirties or older, though? How risky is it, really? Although having a baby later comes with a handful of slightly increased risks, as compared to younger women's pregnancies, keep in mind that just because the risk is elevated, doesn't mean it's elevated to the level of being common. And there are actually plenty of reasons why it can be advantageous to have children later in life.
First, the cons: Women who get pregnant past 35 do have a slightly elevated risk for gestational diabetes and high blood pressure, and may be more likely to need a cesarean. The baby is a little more likely to have a low birth weight, be born prematurely, and have chromosomal abnormalities. There's also an increased risk of miscarriage.
Most of that is common knowledge, and a study that followed more than 180,000 Canadian women found that as long as the women were healthy, received regular prenatal care, and delivered at a hospital, the outcome of their pregnancies "did not vary significantly from those of younger women."
As for the pros about having a baby later in life? Although some may consider this a con!, there is an increased chance of having twins, thanks to hormonal changes in the mother. 
Also, interestingly, older mothers seem to have more emotionally well-adjusted children. One study found a that "Older maternal age was associated with less frequent use of verbal and physical sanctions" towards children at ages 7 and 11, and found that those same children had fewer "behavioral, social and emotional difficulties" than their peers.
Dr. Tea Trillingsgaard, lead author of that study, says"Emotional well-being tends to increase with age … Older mothers seem to thrive better, [they] have more psychological flexibility, more cognitive flexibility, more ability to tolerate complex emotional stimuli from the children." The results still held after controlling for factors like a mother's income and education.
Other studies have pointed out that older mothers tend to be happier, and that the documented dip in happiness that most mothers experience during their babies' first years is much less pronounced in women over 35. If the baby's father is older as well, the baby has a good chance of living longer, and having a higher IQ, too.
With average ages of giving birth steadily increasing all over the world due to many factors, it's nice to know that your prospects of having a healthy pregnancy and baby might not be as grim as you thought. And in the end, whatever the risks and benefits of having a baby at a "late" age, a child is always a great gift from God, no matter when he or she arrives.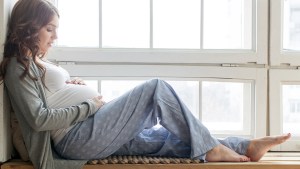 Read more:
How to let go of fear about your pregnancy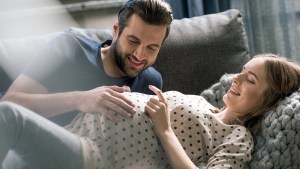 Read more:
You can love your unborn baby even if you don't love pregnancy