If you're in the habit of fighting in front of your kids, consider these two effects it might be having.
I'm always looking for books and courses that offer advice and guidance about how best to raise children. I was hunting for this kind of information when, a while ago, I signed up for a talk about the importance of knowing how to control your anger in front of your children.
When I was a child, I lost count of how many times I saw my parents arguing. Their loud tone of voice, their mutual accusations, and their fights were so common in our home that I thought that kind of environment was normal and happened in all families. It wasn't until I grew up that I realized that, yes, there are homes where peace reigns — at least in front of the children.
When the speaker talked about how it's common for many people to lose control and let their emotions of anger fly, and when she explained all of the negative effects caused by fighting in front of children, I felt like I had been struck by lightning.
When a child is born, potential conflicts are often born too
You don't need to be a psychologist to realize how much the arrival of a baby revolutionizes a couple's relationship. If we look at the statistical probabilities, the chances of a marriage failing rise considerably after the birth of a first child.
According to the speaker, parents who have their first child often push their relationship to the background, as all their attention is focused on their newborn baby. Add to this the stress and exhaustion that naturally occur with a new baby in the house and it's not hard to image how the new parents can find themselves prone to conflict.
Consequently, some couples stop resolving their problems through conversation, and a bellicose atmosphere takes over, destroying the peace and harmony of the home. As the children grow up, the habit of arguing doesn't stop, creating a negative environment, repressed grudges, and a climate of hostility and disrespectful treatment, even in front of the children.
The consequences
Although the consequences of all of this may not be immediately evident in the children's behavior, we need to be aware that living in a home dominated by conflict makes children more vulnerable to developing emotional disturbances. The speaker cited two effects that parents should reflect on seriously:
1
Fear and guilt
In the midst of conflict, children often feel physically threatened, and may even feel that they're responsible for their parents' fighting. This fear and guilt can lead to different problems — anxiety, phobias, depression, insecurity, and more. It can also give children a great deal of stress as they may feel compelled to take sides, but they don't want to as they love both their parents.
2
Children of all ages are affected
In the case of young children, seeing their parents argue or fight creates symptoms of stress. In the case of adolescents, there's also the fear that their parents will separate. Another point is that more sensitive children tend to hide their anxiety, whereas the tendency among more extroverted children is for their turbulent feelings to be expressed through rebellion and other unhealthy behaviors.
However, even when there are conflicts between the parents in front of the children, not all is lost, and the most important thing parents need to do is recognize and face the problem. According to the specialist who gave the talk, a couple who have been fighting often aren't going to be able to solve all their conflicts instantaneously. However, if they're ready and willing to practice a more healthy form of conflict resolution through conversation, they'll be giving their children a good example of how to negotiate and how to solve problems through dialogue.
When another argument occurs, it can be an opportunity for the mother or father to ask the other spouse for forgiveness in front of their children. Then, they should do the same with their children, asking them for forgiveness and helping them understand that they were not the cause of the argument, and that their parents love each other and will always be at their children's side.
The ideal is for the couple to keep their promise of never fighting again in front of their children, and for each of the spouses to work on developing the necessary self-knowledge to identify situations that could create conflict, in order to avoid further confrontations. If, despite all of this, the father or mother prefers to fight, they should understand clearly how much they are putting their children's well-being at risk.
The last piece of advice given by the speaker was that, if the fights are really serious, the couple should look urgently for professional help. As much as their children may hear their parents asking for forgiveness and proclaiming their love after a fight, what they really need is to live in a loving and peaceful home.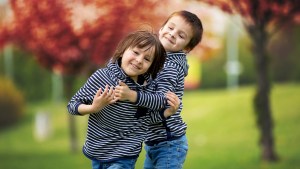 Read more:
When siblings fight, should parents intervene?
Read more:
Pope: You don't know the anguish kids feel when parents fight in front of them