When visiting the shrine in Zaragoza, the beloved pontiff prayed this prayer.
You can get Aleteia inspiration and news in your inbox. Our specially curated newsletter is sent each morning. The best part? It's free.
Sign up here
According to tradition, St. James the Apostle traveled to Spain and was the recipient of a vision of the Blessed Mother there. However, while most apparitions of Mary occurred after her death, this vision was an act of bi-location, as she had not yet been assumed into heaven, and was still living her earthly life with St. John.
It is a remarkable story, one that has resulted in a long devotion to Our Lady of the Pillar in Zaragoza, Spain.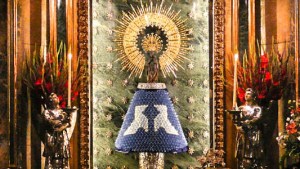 Read more:
Did you know the 1st apparition of the Blessed Mother was an act of bilocation?
While visiting the site of the apparition in 1982, St. John Paul II consecrated the entire country of Spain to the Blessed Mother.
He desired that the people of Spain would constantly turn to the Virgin Mary and place all their needs at her feet. In doing so, he assured that they would draw closer to her Son, Jesus, and live more attuned to the message of the Gospel.
Here is a prayer he recited at the shrine to Our Lady of the Pillar.
Holy Virgin of the Pillar: increase our faith,strengthen our hope, revive our charity.Help those who suffer misfortune,those who suffer from loneliness, ignoranceor hunger or lack of work.Strengthen the weak in faith.Arouse in the young an availabilityfor a total surrender to God. Amen.
Read more:
How to make a consecration to the Immaculate Heart of Mary