The word means "The Ark," and these homes provide safety and love in the midst of the storms of life.
Many call him another Mother Teresa. Several popes have been close to him. In fact, Pope Francis recently said he thanks God for the gift of the man's life.
He was Jean Vanier, and he died this week at the age of 90.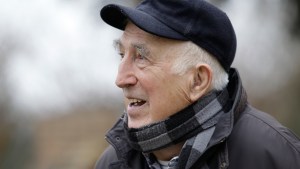 Read more:
RIP Jean Vanier, founder of L'Arche, who ministered to people with disabilities
The legacy Vanier leaves to the world is L'Arche, the network of communities he established to provide a home for the differently-abled to live and work and love with their caregivers.
Vanier was motived to begin what would become the international ministry when in 1964 he visited asylums for the intellectually disabled across France.
According to the history page of L'Arche, "Jean was overwhelmed by what he saw and the atmosphere of sadness within the concrete walls where men walked in circles."
The young man's spiritual mentors urged him to do something, and so he asked friends and family to help him buy a small, dilapidated home in France, and he invited Raphaël Simi and Philippe Seux to move out of an institution and live with him.
Some time later, a friend of Jean's suggested L'Arche as a name for the community. The word means "the ark" in French (in English, it is pronounced as rhyming with marsh).
From France, L'Arche sprang to Canada (Vanier was born in Geneva of Canadian parents) when Sr. Rosemarie Donovan, the superior of Our Lady's Missionaries, offered L'Arche their former novitiate house in Richmond Hill, just north of Toronto.
L'Arche Daybreak began there in October 1969. (Later, famed priest and theologian Henri Nouwen would spend the last 10 years of his life at L'Arche Daybreak and be profoundly transformed by life with people who have disabilities. He would often write about his experiences in his books.)
Information from the web site of the USA division gives a fuller picture of L'Arche:
L'Arche offers those with intellectual disabilities a place to live independently, or in a household with others, and/or a place of work through daytime programs and activities. At all times, it is a place of support and guidance that adapts as well as possible to the needs of each individual. For employees and volunteers, L'Arche is a place of work that is oriented towards accompanying and supporting people with intellectual disabilities. Such support shows itself in the simple gestures of everyday life at home or in the workplace. For those living in the community household, L'Arche is also their home. L'Arche communities are places of faith, but some are communities of one religion, others are inter-denominational or inter-faith. At L'Arche, persons with a developmental disability are known as "core members," and "assistants" are those who come to share life with them. Assistants accompany core members in their activities of daily life: creating home and supporting core members in sharing their gifts within the house and the larger community. As well, volunteers can assist in infinite ways at L'Arche Communities, giving just a few hours or regular time.
Find ways to support L'Arche, including becoming an Assistant, at the web site.