A trip to Ireland taught me more than I was expecting.
If you ever get the chance, be sure to visit Ireland. I had the opportunity last year. I wanted to see a lot of places and chose to rent a car, which brought me along the Irish countryside. As I drove more than 1,200 kilometers (745 miles), I noticed a lot of things, and especially, I noticed sheep. I realized that God might be teaching me a lesson about the sheep and what I noticed about them.
The sheep came running
On one of my rides, I saw a man walking up to a gate to go into the field. As soon as he opened the gate, the sheep came running toward him. It brought to mind Christ's words, "my sheep know me and I know them."
The sheep recognized and knew the voice of the shepherd. In Ballintober I went out into a field to see a site, and the sheep out there were not bothered by me, nor did they listen to me. The sheep know their shepherd and they knew I was not him. As the flock of a parish and diocese, we know who our pastor is, our bishop, and the universal shepherd, Pope Francis.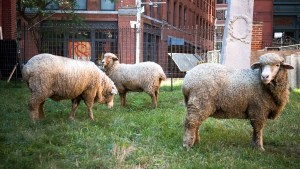 Read more:
They're baaaack: The landscaping sheep return to NYC's Old St. Patrick's
Free to wander where they willed
On another drive to the monastic village of Glendalough, we came up to an area where there were fields on both sides of our vehicle. What I saw was a first: There was no fence for the sheep, it was all open area. It appeared that the sheep could freely walk onto the roadway if they wanted. I'm sure it's possible that there was an electric fence or some other means of keeping them corralled, but what I want to believe is that the sheep knew their boundaries; they knew how far they could go. So to as sheep of the Lord. We know God's commands. We know what sin is and what morality teaches. Knowing that boundary helps us not to fall into sin.
On the wrong side
As I drove to Croagh Patrick, I chose to obey the GPS instead of following the road signs, thinking the GPS might know better. As you might guess, I was quite wrong. As I drove down a side road, I arrived at a spot where the GPS told me to park my car and walk to my destination — the back side of the mountain.
I turned around and drove back. In this situation there was a fence, but the sheep were on the wrong side of the fence, and standing in the middle of the road.
In the spiritual life, sometimes a person might find him or herself on the outside of the fence — such as holding on to a belief that contradicts what the Church teaches or renouncing the Catholic faith. Such a person needs a shepherd who is going to teach them and answer their questions, guiding them back into safety in the Catholic Church.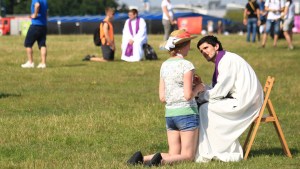 Read more:
Want to be an ecology-minded priest? Spend more time hearing confessions
Following their diet
I also noticed on my drive that the sheep were in the fields eating grass. This was providing them their daily sustenance and nutrients. With what do we feed ourselves as sheep of the Lord? A good spiritual diet includes reading the Scriptures and also eating the body and blood of the Lord Sunday after Sunday.
As we celebrate Good Shepherd Sunday, it's a good opportunity for us to pause and reflect on how we live our lives as members of Christ's flock.
As we celebrate Good Shepherd Sunday, it's a good opportunity for us to pause and reflect on how we live our lives as members of Christ's flock. And not only that, but to give thanks for the our local shepherd who knows our names and tends our parish. Additionally, let's not forget to pray that God will continue to provide shepherds for his people for years to come.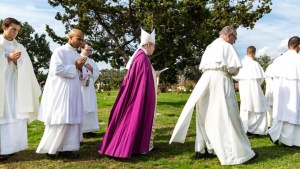 Read more:
Steady stream of vocations sends these monks packing