Are there any official regulations that guide the process?
After all the ballots are counted and a cardinal is chosen to be the next pope, he is asked the question, "By what name shall you be called?"
It's a big question, but one that not all popes have had to struggle with. In fact, for most of history this was never even a question that was asked.
Until the 6th century, new popes would simply keep their baptismal name as their "papal" name. Then began an "informal" tradition of choosing a new name. However, this was inconsistent for many centuries and didn't become a more solidified tradition until Pope Paul IV in 1555.
Yet, there are no technical rules that guide the decision making process of the new pope even today. The newly elected bishops of Rome are free to choose any name and could still keep their baptismal name if they desired.
Above all, it is a name they choose and is not something that is given to them from someone else.
In the past century, several popes chose their name to honor one of their predecessors.
Pope John Paul I chose his double name to honor both Paul VI and John XXIII. Then John Paul II chose his name to honor John Paul I.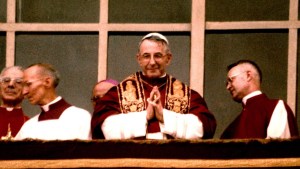 Read more:
John Paul I: It took him only 33 days to leave a lasting legacy
Pope Benedict XVI chose his name to honor both Pope Benedict XV and St. Benedict of Nursia. The name's more symbolic meaning represented the tone of his papacy, as he related in a general audience.
Filled with sentiments of awe and thanksgiving, I wish to speak of why I chose the name Benedict. Firstly, I remember Pope Benedict XV, that courageous prophet of peace, who guided the Church through turbulent times of war. In his footsteps I place my ministry in the service of reconciliation and harmony between peoples. Additionally, I recall Saint Benedict of Nursia, co-patron of Europe, whose life evokes the Christian roots of Europe. I ask him to help us all to hold firm to the centrality of Christ in our Christian life: May Christ always take first place in our thoughts and actions!
Pope Francis broke recent traditions to choose an entirely new name that has never been used by a pope before. This was the first time this has happened since the 10th century. He said that the name came to him while a cardinal embraced him immediately after his election.
[The cardinal embraced me and said], 'Don't forget the poor' … and that struck me … the poor … Immediately I thought of St Francis of Assisi. Francis was a man of peace, a man of poverty, a man who loved and protected creation.
That was when he chose the name Francis, he explained, adding: "How I would love a Church that is poor and for the poor."
One name that has only been used once and has subsequently been avoided is the name "Peter."
This is primarily out of deference for St. Peter, the first pope, though there are also some "legends" that Peter II will be the last pope before the end of the world.
In choosing a name, it is believed that the Holy Spirit helps the pope decide, as the name has a role in setting the tone for the whole of the papacy.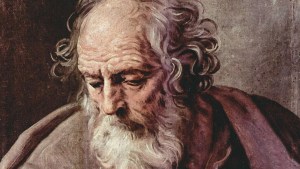 Read more:
What does the name "Joseph" mean?
Read more:
The devil hates this name above all others