The best strategies can feel counter-intuitive, but here are 3 strategies to start with ...
When my daughter was little, I had a serious problem. I couldn't get her to stop talking … like, ever. She would talk incessantly about everything and nothing. It drove me crazy, but I always said to myself, On the bright side, at least you'll never have to worry about getting her to open up.
Then came adolescence. Don't get me wrong, she didn't become an introvert or anything — she still talks incessantly … about everything except the important stuff. She can spend 45 straight minutes describing Vines to me (5-10 second video clips that kids her age are obsessed with), but when I ask what's happening with a certain sticky friend situation or slipping grade, she shuts down like Fort Knox.
At first it was frustrating, until I started looking at it as a challenge. How could I get my kid to open up about the important stuff instead of clamming up?
I tried various methods, some of which resulted in total failure (spoiler alert: teenage girls will laugh in your face if you suggest passing a secret mommy-daughter diary back and forth) and some that saw moderate success (a shopping trip always loosens lips, but is financially unsustainable as a long-term plan). However, I've finally found a few tried-and-true methods for getting my teenager to talk to me — and none of them require swiping a card.
1
Lead with praise
Nothing shuts a teenager down faster than criticism, whether that criticism is real or perceived. Even if you start by voicing a concern and offering help, what your teenager hears is criticism. This is a real conversation I've had with my teenager:
Me: Your science grade has kinda plummeted because of missing homework — can I help you figure out a way to organize your homework so you don't forget to turn it in?
My teenager: *rolls eyes* UGGGGH MOMMMMM I've already talked to my science teacher and she said I could make it up in tutorials, and I've turned in every single piece of homework this week. Why do you always act like I'm doing everything wrong?!?! *stomps upstairs*
I've learned to approach this a different way. I find some well-done piece of homework or quiz from whatever class she's struggling in, and make a point of praising her for it. That's it. That's all it takes to get her to happily accept my praise, then tell me that her grade is lower right now for whatever reason. It's only when she tells me there's a problem that she's willing to hear suggestions on fixing it.
2
Ask open-ended questions
Teenage girls and their teenage drama is a tired cliche, but it's not devoid of truth. I'm learning that teen girls aren't mean or vicious by nature — they're actually incredibly kind, compassionate, and protective (sometimes a little overprotective). The drama isn't something they create out of malice. It's a direct result of learning to navigate increasingly complex and increasingly important social relationships.
Peer relationships for teenagers become the crux of their lives. Developmentally, they're gaining independence and separating themselves from their parents. Socially, they're trying to navigate the world of post-childhood yet pre-adulthood social interactions while dealing with a flood of shifting hormones. It's a hard thing to watch, and I remember how hard it was to live through. Teens are increasingly defensive of their social circles, which makes honest conversation hard to initiate.
The best thing to do is to stop initiating the conversation. Instead of bringing up a specific friend or specific dynamic, ask instead about an activity or class that you know is relevant. If your teen is having issues with a kid on a sports team, don't ask about the kid. Ask about the last game or practice. It might take a few dead-end conversations, but eventually your teenager will open up about what's going on — and if they initiate, they're not on defense.
3
Talk in the car
There's something about riding in the car that makes teenagers feel infinitely more comfortable. It could be the fact that your primary attention is focused on the road, or that they know there's a destination and a hard stop to the conversation, but my best conversations with my daughter happen in the car.
They're always unexpected and spontaneous, though — the ones I try to strategically plan go absolutely nowhere. Ditto with conversations where I make the mistake of turning the radio off; background music makes teenagers feel more comfortable about talking. Without fail, when my daughter and I are going somewhere and she has the radio blasting, she suddenly transforms back into her pre-teen chatterbox, filling me in on everything that's happening in school, with her friends, and with her siblings. The car is like a magical teenage-unlocking tool, as long as you don't try and force it. Just get in the car, turn on the music, go for a ride, and let the magic happen.
Every teenager is different. You might find that some of these work for you, or none do. For you and your teen it might be going to confession together that sparks conversation, or taking a walk. The point is to keep trying new and different ways to give your teen the opportunity to talk to you, rather than demanding answers. After all, as parents we should be trying to model a relationship with Christ the best we can, and if there's one thing He never does, it's demand answers. He waits and listens, waits and listens. As long as your teenager knows that you love him or her and you keep giving them the opportunities, eventually they'll take you up on one.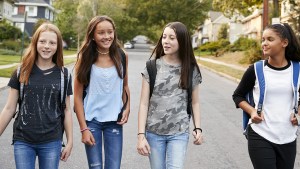 Read more:
The truth about teenage girls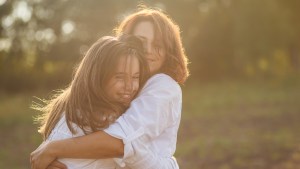 Read more:
Finding hope when you're parenting a pre-teen