Watch this family's double accomplishment!
As a mature student, Sharonda Wilson was excited to finally get to graduate with a Bachelor of Science in Business Administration from Ferris State University; the only hiccup was that her son Stephan was set to graduate with a Bachelor of Arts in Musical Theater from Central Michigan University on the same day.
For Sharonda there was no question: she would forego her own graduation ceremony to see her son be rewarded for all of his hard work.
Happily, after Sharonda posted about the joint ceremonies on Facebook, a student from the president's office at Central Michigan spotted the dilemma and decided to talk to the university's president, Bob Davies about the problem. The president reached out to his counterpart, David Eisler at Ferris State, and unbeknownst to mom and son, the two arranged for Sharonda to have her degree conferred to her by Eisler during her son's graduation at Ferris State.
In the video, the beaming mom is called up to the stage and after a very formal announcement is awarded her long-awaited degree, while her thrilled son helps her ceremonially move her tassel to the left.
In a statement made after the ceremony, CNN reports Stephan as saying:
"I had been looking forward to walking across that stage and accepting my degree for a long, long time. Earning my degree was such a huge milestone in my life, and having my mom with me to celebrate that moment was an unbelievable blessing. I am so proud of us both."
And for mom, she not only got to see her son graduate, but also watched him perform with his musical group during the ceremony. A perfect way to celebrate years of hard work!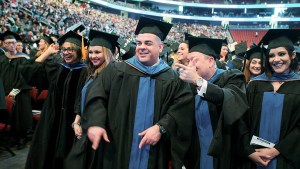 Read more:
3 Tips for navigating graduation ceremonies with grace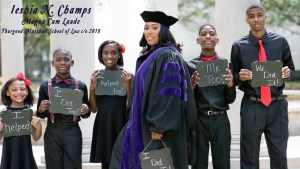 Read more:
No wonder this single mom's graduation photo has gone viral