Bonds formed early in life leave a permanent mark, and can enrich our lives now, even if they've been dormant for years.
You can get Aleteia inspiration and news in your inbox. Our specially curated newsletter is sent each morning. The best part? It's free.
Sign up here
With social networks today, it's not uncommon for us to rediscover friends from our childhood, even 20 or 30 years after not hearing anything about them.
Even without social networks, it's easy to reactivate friendships from our school years if we or our friends are still living in the same place and frequent the same restaurants, supermarkets, and so forth. However, many of us over the decades have moved to another town or city (sometimes even to another state or country), and have changed our contact information. Fortunately, many people are just a Google or Facebook search away.
In my case, an old classmate of mine called a couple of years ago. Apparently, there was no special reason; she'd just been reminiscing about her childhood and felt it had been too long since we'd been in touch.
What is it about childhood friendships that leaves such a deep mark on our lives? Why can they play such an important role for us?
1
Our childhood friends are part of our roots
Childhood friends were witnesses of our first steps, in every way. Together with our neighbors and classmates, we learned to add and subtract, to write in cursive, to play games and sports, and so forth. Maybe we learned to play musical instruments together. Above all, we had fun together, and shared countless experiences during that stage of our lives.
2
Childhood friends know some core things about us
When I got together with my classmates for the first time in 30 years, we went out for a picnic. We had an entire day to share and bring each other up to date, but even so, it felt too short. Each one of us told the group about our current profession, whether or not we're married, and whether we have children. Many things came to light, including marriages and separations, health scares, and many anecdotes from our childhood that are forever engraved in our memories and which made us howl in laughter every time we remembered them.
At the end of the day, we all agreed on one thing: many years have passed, and there's no going back. However, we all still have the same temperament we did as children! The nervous ones are still nervous, sentimental ones are still sentimental, and the same holds true for the artists, the class clowns, and the teacher's pets.
3
With your childhood friends, you can be who you are
They've known us for a long time, and have seen our defects and our virtues. They've seen us in my different situations, and know how we'll respond in just about any situation. We can change our character, but our basic temperaments stay the same. We often feel at home with these friends, because we don't need to hide anything—and probably couldn't if we tried.
4
A mysterious bond keeps us deeply united.
We all know that if we need help, our childhood friends are often there to lend us a hand, according to their abilities. The bonds of our shared experiences create a deep empathy. The friendship that started in the classroom, on the playground, in the street or in the yard, now plays out in the realm of adult life.
5
They help us strengthen our self-esteem
Whether things have gone well or badly for us, our childhood friends remind us that, for them, we are—and always will be—valuable because of who we are. This helps us to feel secure and to keep fighting in difficult times. Our childhood friends are a solid foundation where we can find support.
6
They help us be realistic
Entertainment and social media often project an unrealistic ideal of adulthood and family life. Meeting up with childhood friends can help us to be more realistic, because we'll see that, with the passing of time, they've had very similar experiences to ours. While some people have more success or more difficulty than others, we all have obligations and commitments, ups and downs, and joys and sorrows. No one's life is perfect, and no one's family is always as beautiful as they may look on Instagram. When we see ourselves reflected in our childhood friends, it can help us be more grounded.
None of this means that we can't forge deep and lasting friendships later on in life. However, there will always be something special about those friendships we made in our most formative years, when a day spent playing together seemed to last longer than an entire week of our adult lives. While we're growing up, we literally form each other's brains and habits through the time we spend together. We become part of each other. It's a precious bond that never completely disappears.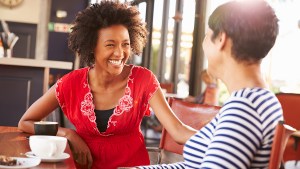 Read more:
How to make real-life friendships with your social media friends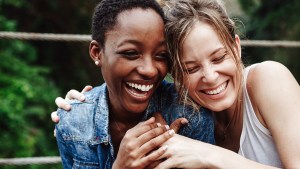 Read more:
Why you shouldn't put off going out with your girlfriends