There are 4 major benefits that practicing your faith provides -- and studies that back them up.
New studies have shown that belonging to a community of faith, not just having a general spirituality, can actually help lengthen your lifespan and make you a happier person. ​National Geographic writer and explorer Dan Buettner found by studying the world's "Blue Zones"​ — regions of the world where people live the longest — that
."
Researchers say there are many reasons why religious people may live longer than their non-believing counterparts, but they found it generally came down to four major benefits that religion provides:
Healthy living
It should come as no surprise that nutrition and exercise is important for increasing longevity. Eating right and moving your body can reduce your risk of chronic diseases, help you maintain a healthy weight, and promote your overall health.
Many religions don't support unhealthy activities like excessive drinking, drug use, and having sex with multiple partners. Religious disciplines also generally encourage a virtuous approach to eating through moderation and discipline.
Religion can help you intentionally make the choice to live a healthy lifestyle and often offers support and accountability to help you maintain it.
Less stress and anxiety
Stress can trigger unhealthy mental and bodily responses that can increases the risk of major health problems like Alzheimer's or cardiovascular disease. People who live the longest set aside time each day to relax and recenter.
Baldwin Way, an associate professor of psychology at Ohio State and co-author of a recent study on religion and life expectancy​, writes that "many religions promote stress-reducing practices that may improve health, such as gratitude, prayer or meditation …" Prayer alone has been shown to decrease stress, heart rate and blood pressure.
A sense of purpose
Researchers from University College London, Princeton University and Stony Brook University found that "eudemonic wellbeing," or feeling that your life is worthwhile, can improve happiness and physical health.
Faith in particular gives people a sense of purpose and the knowledge that life has meaning. As Catholics, we believe that life is more than just our time here on earth, and that living life well now prepares us to more fully receive the abundant life in heaven. We believe that everything we do, everything we suffer, has meaning and purpose. This understanding gives us hope when life is difficult and a more full joy when life is going well.
Community
Belonging to a good community is vital for living a long and happy life. "People who are more socially connected to family, friends, and community are happier, healthier, and live longer than people who are less well connected," says ​Dr. Waldinger, current director of the Harvard Study of Adult Development.
In his studies on Blue Zones, Buettner found that
. Being surrounded by people who hold the same values and who desire to life a good life provides us with deeper connections and constant support. Being a part of your local parish or Catholic community group can improve both psychological and emotional well-being.
Belonging to and being involved in your faith provides, not only spiritual benefits, but physical ones that can help you live a longer and more fulfilled life.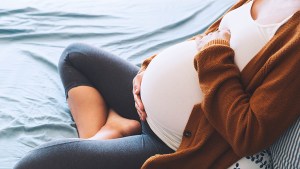 Read more:
The pros and cons of having a baby later in life
Read more:
The art (and science) of true happiness