If the project is able to upload 3,000 pieces per year, 80,000 manuscripts should be fully scanned by 2041.
The Vatican Apostolic Library, better known simply as "VAT," was officially established in 1475, although it is actually much older. Historians explain the Vatican Apostolic Library finds its origins in the earliest days of Christianity itself. In fact, some manuscripts from the first centuries of Christianity are (naturally) here preserved. Established in the Lateran Palace until the late 13th century, it grew exponentially during the papacy of Boniface VIII, who owned one of the biggest collections of illuminated manuscripts in Europe. However, it was only in 1451 when Pope Nicholas V, a renowned bibliophile himself, attempted to re-establish Rome as an academic center of global importance, building a relatively modest library of over 1,200 volumes, including his personal collection of Greek and Roman classics and a series of texts brought from Constantinople.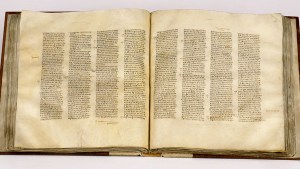 Read more:
British Library digitizes earliest surviving copy of New Testament
Nowadays, the Vatican Library treasures around 75000 codices, 85000 incunabula (i.e., editions made between the invention of the printing press and the 16th century), for a grand total of more than a million books. Now, these treasures are being displayed online. Little by little, though. You can search the library and download its archives just by clicking here.
It was back in 2018 when Archbishop Jean-Louis Bruguès, then Prefect of the Vatican Library, announced the opening of the DigiVatLib, a shortening of digital Vatican Library. The Archbishop explained that around 2013 the Vatican Library began a vast undertaking to digitize the manuscripts belonging to its catalogue. Since then, the fruits of their labors can be enjoyed by anyone with internet access, at no charge.
Read more:
The oldest library in the world goes digital
Once the painstaking and minute process of scanning all the individual pages of each manuscript is complete, the work is compiled and uploaded to the DigiVatLib website. If the project is able to upload 3000 pieces per year, 80000 manuscripts should be fully scanned by 2041.
Make sure you visit the slideshow below to discover some of the most beautiful monastic libraries around the world. 
Launch the slideshow