There is much symbolism behind the popular medieval image of the Virgin Mary breastfeeding a saint.
In medieval art, it was common to depict the Blessed Virgin Mary with breasts exposed, manually expressing milk from them. On occasion there would be a saint on the receiving end of the milk, such as St. Bernard of Clairvaux.
This image of St. Bernard nursing at the breasts of the Virgin Mary is due to a popular legend that is connected to his life.
St. Bernard was a devout Cistercian monk during the 12th century who had a deep love of the Virgin Mary. His name is often connected to the Memorare, one of the most popular Marian prayers of all time, though he did not compose this prayer.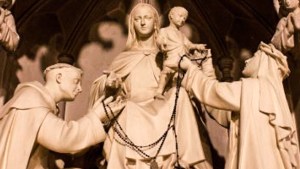 Read more:
This might be the best Marian prayer for when you really need help
According to various medieval stories of his life, St. Bernard had a vision of the Virgin Mary. Author Richard Storrs recounts the story in his book about St. Bernard.
[T]he Holy Virgin had appeared to him, attendedby saints, in his sore sickness, and with gentle touchhad relieved his distress, removed his disease, andchecked the fierce flow of saliva from his lips, it wasthat those lips might freely speak the wisest and mostcommanding words then heard in Europe.A more extreme form which thelegend subsequently took has been immortalized by Murillo in a celebratedpicture in the Royal Gallery at Madrid, where the Virgin Mother is represented as appearing to Bernard while seated among his books, and causing milk from her breast to drop upon his lips, not only to heal them but to endow them with celestial eloquence, while cherubs surround her in an effulgence of heavenly glory.
This episode is often called "The Lactation of St. Bernard," and is usually depicted as a stream of milk going into Bernard's mouth, though sometimes the stories relate that the Virgin Mary gave him three drops of her milk.