It's hard not to click those sensational headlines, but you owe it to yourself to keep your peace.
What can God do in your life with one Bible verse a day?
Subscribe to Aleteia's new service and bring Scripture into your morning:
Just one verse each day.
Click to bring God's word to your inbox
You are a good mom, and you care a lot about the health of the baby inside of you. You're also intelligent, diligent, and determined to give your baby the best start that you can. Lucky you. Your love and concern makes you a prime target for unscrupulous websites who want your clicks more than they care about giving you accurate information, much less peace of mind. 
If you've been pregnant for more than 30 seconds, you already know what I'm talking about … 
"Five weird things that can affect your chances of a healthy pregnancy" 
"Pregnancy safety: Twelve hidden dangers lurking in your house"
"15 Dangerous things women do when they're expecting"
Or worse, the articles lean on some new scientific study, in order to force you to take it seriously. I found a headline recently claiming that a major study found that pregnant women who don't get enough sunshine are more likely to have children born with learning disabilities, ADHD, and autism. Terrifying, right? 
The stakes are so high that it's hard not to click. What do you have to lose? On the one hand, you've never heard of anything like this. And yet — what if you click, and it makes all the difference? Or what if you don't click, and that makes all the difference? It's hard to keep scrolling, especially if you're a first-time mom and you aren't used to this particularly aggressive corner of the internet yet. 
If you're already anxious, though, I can guarantee you're not making your life any easier to give in to the sense of anxiety that crops up, on cue, with every article you come across online.
Before you go googling "pregnancy + sunlight exposure + learning disabilities," I'll save you the trouble. It was one of those things seems plausible, till you look closer. It didn't define its terms, even the important ones, like what exactly qualified as a learning disability. It used the infamous phrase "experts say," but forgot to name or quote those experts. It was mostly speculation, and almost no actual information. 
But the thing is, you wouldn't have known that if you didn't read carefully. If you read the headline, and skimmed, you'd probably leave the site feeling twice as anxious. Sunlight is a big problem! Are you getting enough? Are you sure it's enough? The unscrupulous writer of the article doesn't care that you're a wreck now, because you clicked, and that's all they wanted. 
But I'm here to tell you that have better things to do with your limited emotional energy and time.
Here's how you can avoid this sort of predatory "Fear of Missing Out" going forward. You owe it to yourself to have a more peaceful pregnancy, if possible.
Pick one or two sources you trust, and stick to those. You don't need everything that the internet has to offer. You probably have friends who can send you to some responsible websites. 
Pay attention to the source of the article. Is it a legitimate medical resource, like Mayo Clinic or the ACOG, or is it a column from a gossip magazine, or somebody's personal blog? Read whatever you want, but don't give it all the same weight.
If you do find yourself panicking that you drank the wrong herbal tea and the baby is in trouble, look deeper. Did that article cite primary sources? Did it mix up correlation with causation? How big was the study they're citing? Vague language and lack of quotes and sources are huge red flags. Don't get worried until you're sure you understand how it all works. 
Pay attention to why you're clicking. Are you curious and interested, or are you already worried, and you want to give yourself a reason to confirm your worst fears? If you're not in the mood to read impartially, maybe it's not the time to click. If you want to come back to it, make sure you read it when you're feeling happy and rested.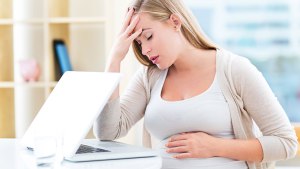 Read more:
Why you shouldn't be ashamed of having "pregnancy brain"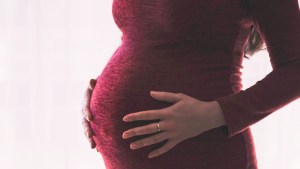 Read more:
Why you should disregard comments about your pregnancy weight