"Let me retain innocence and simplicity in the midst of this complex world ..."
Need an idea for Lenten almsgiving?
Help us spread faith on the internet. Would you consider donating just $10, so we can continue creating free, uplifting content?
Make a Lenten donation here
It's not easy to be a Christian, and at times it can appear that there are serpents all around us, trying to prevent us from living the Gospel message.
This isn't new. Jesus sent forth his disciples with full knowledge that they were going to be surrounded by the attacks of the Evil One.
Jesus sent out these twelve after instructing them thus … Behold, I am sending you like sheep in the midst of wolves; so be shrewd as serpents and simple as doves…You will be hated by all because of my name, but whoever endures to the end will be saved. (Matthew 10:5,16,22)
Dutch Catholic priest Henri Nouwen understood this reality and struggled to remain faithful in the midst of his frequent struggles with depression. He wrote the following prayer that can help us as we strive to follow God's will in a world that does not accept the Christian message.
Dear Lord, you have sent me into this world to preach your word. So often the problems of the world seem so complex and intricate that your word strikes me as embarrassingly simple. Many times I feel tongue-tied in the company of people who are dealing with the world's social and economic problems. But you, O Lord, said, "Be clever as serpents and innocent as doves." Let me retain innocence and simplicity in the midst of this complex world. I realize that I have to be informed, that I have to study the many aspects of the problems facing the world, and that I have to try to understand as well as possible the dynamics of our contemporary society. But what really counts is that all this information, knowledge, and insight allows me to speak more clearly and unambiguously your truthful word. Do not allow evil powers to seduce me with the complexities of the world's problems, but give me strength to think clearly, speak freely, and act boldly in your service. Give me the courage to show the dove in a world so full of serpents. Amen.
Read more:
A prayer against depression, by St. Ignatius Loyola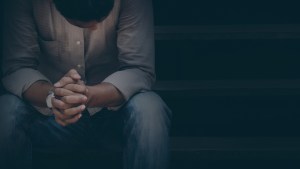 Read more:
Anxious? Here's St. Francis de Sales' calming advice