Dads are an integral part of their babies' lives, right from the very beginning.
When people talk about the arrival of a new member of a family, the father is generally mentioned less than the mother, because the mother is the person who experiences the process of pregnancy and childbirth most directly in her own flesh. Nevertheless, the presence of the father makes a huge difference in the way the mother experiences her new motherhood.
Becoming a father is a true challenge, and although men don't have to undergo the physical changes of pregnancy, their child's birth will be one of the most transcendent moments of their lives. If fathers are involved every step of the way, it will help the entire family.
During pregnancy …
In order for a father to understand his wife better and begin to form a bond with his son or daughter, it's essential for him to be involved with everything related to the pregnancy, participating actively in supporting his wife in preparing for childbirth. His love and understanding are vitally important. He should:
1. Accompany his wife to her doctor's appointments so he can be up to date on the development of his child through ultrasound imaging and other methods.
2. Look up information on everything related to pregnancy, along with his wife, reading books, magazines, and other specialized materials.
3. Connect with his child through the sense of touch, caressing his wife's belly. About half-way through the pregnancy, the fetus' hearing is good enough to hear noises from the outside world. If the father talks near his wife's womb, the baby will recognize his voice at birth.
4. Go to pregnancy preparation classes so he can learn the best way to help his pregnant wife when the time comes for her to give birth.
5. Collaborate in preparing the baby's clothes and room, so as to share in welcoming the new member of the family.
6. Help more than usual with household chores, especially if the couple has other young children and if the wife works outside the home.
7. Be attentive to his wife's feelings and emotions. There will be times when distracting her and encouraging her will be important, so he needs to make an effort to watch and understand her concerns and moods.
During childbirth …
A husband's role is irreplaceable during childbirth. His presence and care will help his wife feel supported, loved, and confident that he's going to stay at her side every step of the way. At this stage, a husband should:
8. Do everything he can to help make childbirth go as smoothly and normally as possible. His active participation can help his wife feel calmer and more confident.
9. Run through the process of childbirth in his head before the day arrives, coming up with a plan of action for how to get his wife to the hospital, how to support her while there, etc.
10. Transmit optimism, tranquility, and confidence, which will be a great help for his wife.
11. Talk positively and choose his words with care so as to encourage his wife, saying things like, "You can do it!" and "You're doing a great job!" and not things like, "Don't get nervous" or "Don't worry."
12. Help guide his wife's breathing when strong contractions arrive, helping her to relax between one contraction and another.
13. Forget his telephone and anything else that's not his wife throughout labor and childbirth, except for emergencies or to inform other family members about what's going on, so she can feel that she's being accompanied and that all the attention is on the singular event they are experiencing together.
14. Avoid having friends and family members coming in and out of the room all the time—a task that require the best of his diplomacy and good manners.
After childbirth …
After childbirth, it's important for the man to recognize and acknowledge his wife's new physical and psychological needs after undergoing the profound biological changes involved in childbearing. The father now has an important role alongside his wife in the harmonious development of the family. To continue his active involvement, he should:
15. Actively participate in the daily household chores necessary for taking care of the baby and the rest of the family.
16. Get involved in caring for the new child, going to his child's appointments with the pediatrician and writing down all his doubts so he can research them or ask about them.
17. Tell his wife often that she's precious and loved, and show her it's true frequently and tenderly. Taking care of his relationship with his wife is the most precious treasure he can give his children.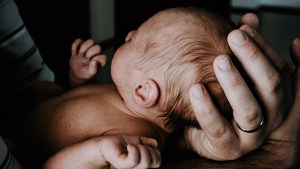 Read more:
Hey, new dads, your baby's infancy is your time to shine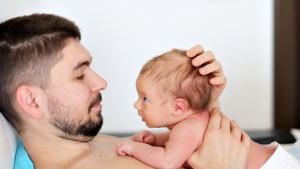 Read more:
Surprise! New dads go through hormonal changes, too