Being grateful is not optional for a Christian, but how do we do this when we're in pain or distress?
What can God do in your life with one Bible verse a day?
Subscribe to Aleteia's new service and bring Scripture into your morning:
Just one verse each day.
Click to bring God's word to your inbox
Catholics are supposed to recognize our serious duty to be grateful. During Mass — it never fails to get my attention — the priest prays, "Let us give thanks to the Lord our God," and we respond, "It is truly right and just." The priest highlights exactly what that means, continuing, "It is truly right and just, our duty and our salvation, always and everywhere to give You thanks." 
Always and everywhere. Gratitude isn't extra, it's a matter of justice. That's the part that always stops me in my tracks. I love my life, and I understand that even when it's hard, pregnancy is a gift, too — an honor, a privilege, and a profoundly beautiful experience. At the same time, sparing you the details, I'll just say that this current pregnancy of mine has been frustrating, exhausting, and physically very painful.
Even uncomplicated pregnancies are like this sometimes, and that's to say nothing of the "complicated" ones. Does God really expect us to stay grateful when pregnancy feels more like an ordeal than a gift? I believe He does, but a lot of people misunderstand what gratitude really means. There are a lot of attitudes that seem like gratitude, but really just leave us feeling burdened and guilty–authentic gratitude, on the other hand, is uplifting.
So, how do you foster a habit of true gratitude in the middle of a difficult situation? I'm a list-maker, especially when I'm overwhelmed, so let me start with what doesn't help. These ideas seem like they would totally work towards making us more habitually grateful, but (I hate it when this happens!) they actually just make everything worse.
It's hard to be truly grateful when you think:
Gratitude means minimizing your own struggles, and saying you're feeling okay when that's not true. 

Gratitude means comparing your problems to other people's much bigger problems, and concluding that because yours are smaller, they don't count. 

Living with gratitude in your heart means you have to always feel peaceful about the things that are causing you pain. 

Gratitude is an emotion, and if you try hard enough, you can force yourself to feel grateful for things you actually hate.

Gratitude means berating yourself with long lists of what you think you "should" be grateful for, if only you were wise enough and virtuous enough to have the proper perspective.

Gratitude means telling yourself firmly that what you're going through doesn't matter, because in the grand scheme of things, it's just a blip on the radar. 
Does any of that sound familiar? Okay, so if those aren't good ways to cultivate authentic gratitude, here's what actually might help you develop a real habit of gratitude, no matter what you're going through, including a difficult pregnancy:
Keeping an authentic sense of perspective — remembering that although your problems do matter, and are just as hard as they seem, there's more to your story. The pain is temporary, and one day it'll be a distant memory. When you can hold both these truths in your head at the same time, it's easier to remember that you can be grateful for the good things — the child, your family, the resources you do have — without pretending that what's hard does not exist.
Remembering that even if you don't feel grateful, you can make the choice to thank God for what's good — and sometimes, eventually, the feeling follows. Whether or not the feeling shows up, though, you can cultivate gratitude by just making a point to remember and speak about the good in your life. 
Separating what you're grateful for and what you're not grateful for: You don't have to be grateful for bad things. You don't have to be grateful to be in pain, but you can still be grateful for the baby, and for the good fruit that God might want to bring out of the suffering — even if you don't know what that good fruit might be.
When everything seems daunting, and you can't find a single silver lining to give thanks for, focus on being grateful for the most basic, universal things: God's faithfulness, God's presence, God's mercy, God's providence. These things are real, no matter what we feel, so it's a good place to start.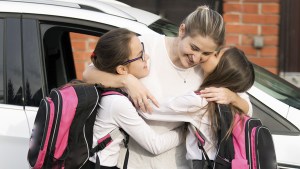 Read more:
How I accidentally taught my kids to practice gratitude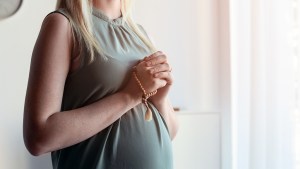 Read more:
9 Saints to turn to in the months of your pregnancy