n this latest incidence of crimes against Catholic churches, the thieves took gold vessels and 16th-century vestments.
A rural Catholic Church in France was robbed of gold liturgical vessels and an embroidered 16th-century cloth given by King Francois I.
The theft which took place early Monday was the latest in a rash of robberies and desecrations of Catholic churches that have taken place across France.
The crime made headlines because of the thieves' unusual methods. They strapped a tree trunk to a car to use as a battering ram to crash through the doors of the church, the former Cathédrale Sainte-Marie, now Eglise Sainte-Marie, in Oloron-Sainte-Marie, reported The Tablet.
According to The Tablet's report, after breaking through the church doors, the burglars sawed through metal gates and left with gold chalices, monstrances, a cross and the valuable vestments.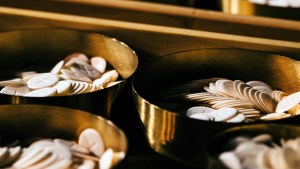 Read more:
String of attacks on French churches includes desecration of Eucharist
Parish priest Fr. Jean-Marie Barennes said that the brazen robbery and other crimes against French churches that have taken place in recent months show a worrying disregard for the Church and its values.