The internet has no resources for this situation, so I wrote one myself because believe it or not, you might need it one day.
What can God do in your life with one Bible verse a day?
Subscribe to Aleteia's new service and bring Scripture into your morning:
Just one verse each day.
Click to bring God's word to your inbox
Just when I think I no longer have the capacity to be surprised by what life throws at me, behold … Along comes a curve ball on a Thursday night — this time, in the form of a goat.
Let me set the scene: it's a weeknight, in the hour before dinner. Homework is done and the kids are outside playing while I alternate between cooking dinner and working on my nearby laptop. Everything is tranquil, peaceful, and under control … until my 9- and 7-year-old sons burst in the back door, shouting over each other about finding a stray goat.
We don't live in the country, y'all. We live in suburbia, in a planned and HOA'd neighborhood with postcard-sized back yards. Dogs are ubiquitous, and almost always on a leash. Occasionally stray dogs happen, but stray goats? Never.
So it was with heavy skepticism that I followed my sons out the back door, where, lo and behold, I saw a goat. A brown baby goat with a pink collar, to be exact. The boys and their best friend had managed to MacGyver a leash, attaching one end to the goat's baby-pink collar and securing the other end around our gate that leads out to the sidewalk. They were incoherent in their exuberance to tell me their various theories on the goat's origin, as well as plans on how to proceed with locating the owners (plans pierced through with blatant hope that the owners were gone forever, and the goat could be adopted into our family — preferably straight into the boys' triple bunk bed for the night).
Meanwhile, the goat quivered in fear and then peed on our welcome mat.
At this point, I called for order in the courtroom. I told the boys they were scaring the goat and sent them to the backyard so I could figure out a plan. Of course, my first step was the same one I take in any new and unfamiliar situation: I consulted Google.
Turns out, there's no how-to guide for restoring stray goats to their owners. In fact, there were no results about stray goats at all. For the first time in living memory, Google failed me. But since I'm resourceful (and dinner was burning), I dusted off my critical-reasoning skills and created my own plan, which I'm now entrusting to the internet to rectify Google's enormous stray-goat-related-gap. Oh, and to help other suburban moms who suddenly find themselves in possession of a pink-collared baby goat at dinnertime.
1
Mobilize the troops
Your first step is to kill two birds with one stone: get the kids out of your hair so they'll stop scaring the goat and making her pee, and start the search for the goat's owner. Give your kids clear and detailed instructions to knock on every front door along your street and politely inquire if the owners have misplaced a goat. Quickly realize that you can't google effectively while goat-sitting, and enlist your teenager to cuddle the goat. Listen to her squeal and ignore the fact that she immediately FaceTimes nine of her friends to share this momentous occasion. If you don't have a teenager, use whatever resources you do have — children, husbands, stray neighborhood kids. You need manpower here, so don't be too discriminating.
2
Remember -- There's an app for that
Now that you're free to think, realize you need to go broader than your own street. Goats can run more than a block (probably?), and you've got outlying houses in and around your neighborhood with more land. One of them might even have chickens, since they always have a "Fresh Eggs for Sale" sign up. Make a quick mental note to offer that family the goat if your search efforts failed. Wonder how you're going to get the word out that you've found someone's goat without a town crier. Wish there was an app for this. Immediately remember that, duh, there's totally an app for this. It's called NextDoor, and you already have it on your phone.
3
Waste at least a half-hour battling technology
Unless you're over 60 and have multiple dogs that you refer to as children, it's unlikely that you actually spend much time on this app, so this step is critical. Make sure you spend a minimum of 20 minutes trying to remember your password instead of just re-setting it. Try it so many times you lock yourself out of the app and have to delete and re-install it. Once you finally give up, reset your password, and log in, make sure you check the neighborhood your app is set to. Suppress your irritation when you discover that you haven't logged into the app since you lived halfway across the country, and patiently update your address. Resist the temptation to utter an oath when the app tells you verification happens via postcard and takes 5-7 business days. Use that internet savvy and google it, then backdoor your way into the hidden 2-factor authentication verification. Enjoy your sweet victory over technology when your app finally lets you into this, your new neighborhood. Then run inside to yank the burning grilled cheeses off the stove.
4
Pics or it doesn't count
When you're finally ready to post about the lost goat (a mere 45 minutes after you clicked the app), don't forget that pictures capture more people's attention and help enormously with identification. But make sure you remember this after the sun has set, so your flash can create discolorations and scare the goat into peeing on the welcome mat, again. After you get one or two terrible but clear pictures and several dozen blurry ones, take a moment to multitask. Post the pictures on the app, then update your Facebook status, because how often do suburban kids find a lost goat?! (According to my Facebook friends, absolutely never.)
5
Start making contingency plans
Give the door-to-door and app searches some time to work their magic. These things take time, I guess, even though you would think someone who owned a goat and put a pink collar on it would immediately notice if they lost said goat. But apparently, that's not the case. In the meantime, though, start making contingency plans. Google your city's animal control office and call to ask if they handle lost goats. Repeat the word "goat" at least seven times before spelling it out. Wait patiently while the operator laughs, then confesses to having "no idea" what their policy on goats are. Give her your number so she can call you back when she gets a hold of her supervisor … tomorrow. Start allowing the possibility of an overnight goat guest to sink in.
6
Stay calm
When you realize the goat situation has completely obliterated dinnertime and is rapidly encroaching upon bedtime, don't panic. Even though it's a school night, freaking out only makes things worse. Take a few deep breaths. Kick the punching bag. If all else fails, pour yourself a glass of wine and then sink down cross-legged next to the goat. Examine her critically. Wonder idly if goats sleep lying down or standing up. Whatever you do, do NOT Google "Do goats carry ticks or parasites?" In fact, go ahead and disable your Google access for the night.
7
Pray for a miracle
Once bedtime has come and gone and your kids are sitting outside with the goat eating granola bars for dinner, it's okay to start feeling a little desperate. After all, the freezing overnight temps render it inhumane to leave the stray goat outside overnight, so you're about to learn a lot more than you ever wanted to about goat sleepovers. You might even briefly entertain the idea of "accidentally" letting the goat off the leash before sadly remembering that you're a good Christian. When you do remember, go ahead and pray for a miracle. I mean, God made the universe in 7 days. Surely He can deliver you from this goat, right?
8
Don't forget to thank your heroes!
If your son's neighborhood buddy shows up just when you're about to give up and make the goat a pallet in the laundry room, announcing that he found the goat's owner (who is on her way to retrieve her goat), be effusive in expressing your gratitude. Lavish that praise on and stuff his pockets full of cookies. For good measure, text his parents and let them know what a fantastic son they're raising. Be friendly and relaxed when the goat owner appears, keeping all traces of the stress and anxiety of the last few hours off your face. Pretend to be interested in her detailed explanation of the goat's breed, lineage, qualities, and favorite stuffed animal. Endure all goat-related small talk patiently, because a goat-free future is just on the other side.
9
Make this a teaching moment for your children
Last but definitely not least, don't lose the opportunity to make this a teaching moment for your kids. Sure, you can throw in a few platitudes about compassion for God's creatures and the virtue of neighborliness, but be clear on the bottom line: goats don't like leashes. Make sure your kids understand that should this bizarre scenario repeat itself, they are welcome and encouraged to try and find the goat's owner — but they're not allowed to leash the goat to your gate beforehand. Stray goats are strictly a hands-off situation … for the sake of the goat's emotional well-being, of course.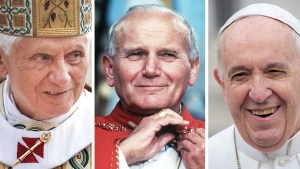 Read more:
9 Thought-provoking quotes from popes on caring for God's creation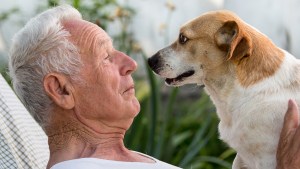 Read more:
5 Ways that dogs make life better … according to the Bible