Next to St. Patrick, "The Mary of Erin" is widely known for her powerful intercession.
While St. Patrick is widely known as the Patron Saint of Ireland, St. Brigid is also dearly beloved by the Irish people and is considered the Patroness of Ireland. She lived during the 6th century and is responsible for the founding of many monasteries throughout the Emerald Isle. Brigid was regarded so highly that the people called her the "Mary of Erin."
Many legends have been written about her that extol her virtues, but also picture her as an intercessor, able to invoke God's power to perform many miracles.
Here is a prayer to St. Brigid that asks for her protection from evil and all danger, lighting the way on the path to virtue.
O Glorious St. Brigid, Mother of the Churches of Erin, patroness of our missionary race, wherever their lot may be cast, be thou our guide in the paths of virtue, protect us amid temptation, shield us from danger. Preserve to us the heritage of chastity and temperance; keep ever brightly burning on the altar of our hearts the sacred Fire of Faith, Charity, and Hope, that thus we may emulate the ancient piety of Ireland's children, and the Church of Erin may shine with peerless glory as of old. Thou wert styled by our fathers "The Mary of Erin," secure for us by thy prayers the all-powerful protection of the Blessed Virgin, that we may be numbered here among her most fervent clients, and may hereafter merit a place together with Thee and the countless Saints of Ireland, in the ranks of her triumphant children in Paradise. Amen.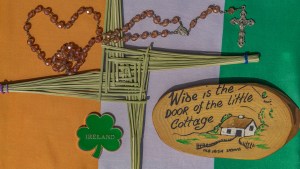 Read more:
The spiritual meaning behind St. Brigid's cross
Read more:
Lift your glass: a song for the feast of St. Brigid