It was 1946 ... and he observed that legislation and treaties can never be enough to rein in the unlawful ambitions of man.
Recently, Pope Francis noted that Pius XII spoke of one of the evils of our day being a loss of the sense of sin.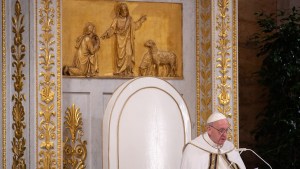 Read more:
Pope Francis: One of the evils of our day is the loss of a sense of sin
In fact, Pius XII said that in 1946 (on October 26), in a radio message to the National Catechetical Congress in Boston.
Here's the excerpt of what he said: 
To know Jesus crucified is to know God's horror of sin; its guilt could be washed away only in the precious blood of God's only begotten Son become man. Perhaps the greatest sin in the world today is that men have begun to lose the sense of sin. Smother that, deaden it — it can hardly be wholly cut out from the heart of man — let it not be awakened by any glimpse of the God-man dying on Golgotha's cross to pay the penalty of sin, and what is there to hold back the hordes of God's enemy from over-running the selfishness, the pride, the sensuality and unlawful ambitions of sinful man? Will mere human legislation suffice? Or compacts and treaties? In the Sermon on the Mount the divine Redeemer has illumined the path that leads to the Father's will and eternal life; but from Golgotha's gibbet flows the full and steady stream of graces, of strength and courage, that alone enable man to walk that path with firm and unerring step.
Read more:
1st feast of Blessed James Miller since beatification: 2nd native-born US martyr