Everything from bedtime battles to work conflicts can become channels of grace this Lent.
I was thankfully clued in to the concept of "redemptive suffering" right around the time I became a parent. I'll never forget sitting in a new mother's support group after Mass. The speaker (a mom of 10) said, "You're not changing diapers – you're saving the world." I was stymied – that is until she explained this concept of uniting one's hardships (large and small, especially diaper duty) to Christ's Passion:
"Now I rejoice in my suffering for your sake," she quoted St. Paul, "For I fill up what is lacking in the afflictions of Christ on the cross." (Colossians 1:24)
I remember sitting there, staring at the giant crucifix on the wall behind her. It was a humid day, and my fussy baby was inconsolable – clawing at my neck, cutting his first tooth. At the same time, I was baffled by the concept that something is lacking in the afflictions of Christon the cross. My whole life, I had been accustomed to thinking that Christ's Passion was complete. But St. Paul seemed to have a different idea. My inner dialogue raced:
Something's lacking on the cross? That's inconceivable! Incomprehensible!What could possibly be lacking on the cross of Jesus Christ?
And then my baby threw up right down the inside of my shirt, and at once – I knew the answer:
ME!!! I'm what's lacking on the cross!
Now I'm no mystic, but at that moment I had a vision of embracing my Suffering Savior (with my smelly shirt and all). Because something had changed in my heart. A light bulb went on, and I thankfully started seeing these many frustrations of motherhood as welcome "sanctifiers," as experiences that are shaping me into whom I'm meant to be.
St. John Chrysostom speaks of that passage in this way: "It seems indeed to be a great thing he has said; but it is not of arrogancy, far be it, but even of much tender love towards Christ; for he will not have the sufferings to be his own, but His, through desire of conciliating these persons to Him. And what things I suffer, I suffer, he says, on His account: not to me, therefore, express your gratitude, but to him, for it is He Himself who suffers."
It took a few more years, however, to live out the second half of Colossians 1:24 – the "for your sake" part. But here's where things get pretty exciting. The bedtime battle, for example, is where I've been duking it out most lately (in the heavenly realm), and I'll touch on that in a second. First, let's see what some more experienced souls have to say about redemptive suffering.
Mother Angelica, the renowned founder of EWTN, was well acquainted with crippling illnesses, and had keen insights on the concept of "offering up" one's hardships as prayer. She once said: "Suffering in itself does not make us holy. It is only when we unite it, out of love, to the sufferings of Christ that it has meaning. Suffering without love is wasted pain."
Wasted pain? No way! As a mom, I hate the idea of wasting anything.
So this Lent, I've been particularly focused on offering up the seemingly endless variety of frustrations associated with simply getting my kids to GO. TO. SLEEP. Here's how:
4 p.m. – My baby takes a power nap on the way home from piano lessons. This means I'll get "toddler date night" this evening when I should be zoning out to Netflix. So I pause at a stoplight and lift an open palm to the Lord: "Take my 'me time' for Paula" (a neighbor in the midst of a trial).
7 p.m. – Like Superwoman, I simultaneously oversee both supper clean-up and bath time, darting back and forth between the kitchen and bathroom, scrubbing pots and tiny bottoms. My husband is working late, so I'm flying solo and tempted to feel sorry for myself. Instead, I pray: "Dear God, thank you for hot baths and warm food; regardless, I offer it all up for Pete – please give him a breakthrough with his job."
These type of whispered "darts to heaven" immediately increase my hope, but I'm not the first one to figure this out. In Romans 5: 3–18, we read "We glory in our sufferings because we know that suffering produces perseverance, perseverance character; and character, hope."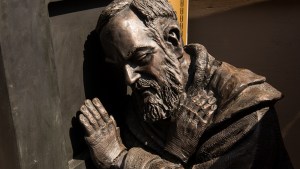 Read more:
Padre Pio says God is "obliged" to answer this type of prayer
Scott Hahn, the popular Catholic author and speaker, once said: "He gave our pain and struggles a holy significance, a real power, which makes it a privilege to suffer with Christ."
And speaking of holy significance, I'm only halfway through this bedtime battle, and things are getting dicey …
8 p.m. – Brush 5 sets of tiny teeth; remind older kids to do the same; say prayers and read Goodnight Moon for the 10,000th time ("Lord, all of this for Grandma's loneliness; please comfort her with a new friend").
Crawling on the floor with a kid on my back, searching under beds, I finally thrust up a victorious fist, waving a favorite blanky; kisses, hugs, countless loving yet somewhat threatening "shhhhushes" are offered, as well as another quick prayer, offering my kids' squabbling up for Grandma again. Lights out, I stumble into the hall, foolishly breathing a sigh of relief because what greets me would make any battle-weary parent groan: a bright-eyed 2-year-old, raising a toast to me with his sippy-cup.
8:15 p.m. – Flop on the couch with said bright-eyed 2-year-old. Scroll Netflix only to be interrupted by a child coughing super loud down the hall. Run to the kitchen. Search for syrup and a nonexistent medicine doser. Medicate the coughing cougher, turn to leave when a tiny voice asks for water … ("Lord, all this for Pete's job too.")
8:30 p.m. – Flop on the couch for the second or third or fourth time. Joshy begs to watch cartoons even though it's DARK OUTSIDE!!! Another child calls for water and I beg, "Lord! I offer this one up for … me! Help me right now! Please! Amen!"
You get it – the battle is real. But so are the opportunities to call down God's graces, to "fill up what is lacking on the cross;" to "offer up" our many sufferings as parents for the sake of those we love, for those in need – including ourselves!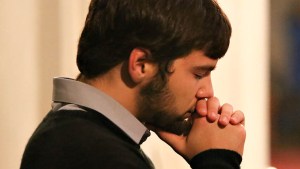 Read more:
Effective prayers that take less than a second