These devotionals have reflections from St. John Paul II, St. Therese of Lisieux and many other popular saints.
Developed and spread by the Franciscans since the 14th century, the Stations of the Cross remain a powerful way to enter into the Passion and death of Jesus.
Over the centuries various versions of this popular devotion have been created, many of them inspired (or written) by saints!
Here is a slideshow featuring 7 different versions of the Stations of the Cross that contain reflections from many popular saints.
Launch the slideshow


Read more:
Who invented the Stations of the Cross?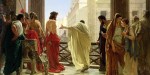 Read more:
Pray the Stations of the Cross with these beautiful images and prayers