St. Patrick spent his early life seeking the truth and found spiritual peace in God's hands.
While St. Patrick is widely known as the saint responsible for successfully bringing Christianity to Ireland, before he ever became a priest or bishop, he struggled with his belief in God.
Through God's providence, he was taken as a slave to Ireland and while given the task of a shepherd, he was able to pray silently to God. Slowly he grew in his knowledge and love of God and eventually was set on fire with his love.
St. Patrick was a seeker, who found spiritual peace in God's hands.
Here is a prayer to St. Patrick from the Loretto Manual, asking for his help in obtaining the grace of conversion. If you are wandering in the spiritual life, turn to St. Patrick and seek his heavenly aid.
O glorious St. Patrick, Apostle of Ireland, who left father and mother, and all earthly things, to bring our forefathers from the valley of sin and the shades of death, to the admirable light of Jesus Christ; intercede with our Divine Lord and Master, "who came to seek the lost sheep" that we may obtain the grace of conversion-that we may receive pardon of our past sins, which we here acknowledge before him, and promise to confess with due disposition to his appointed Ministers, that we never more offend him; but perform his will in all things, during the remainder of our lives, through the merits of our Lord and Savior Jesus Christ. Amen.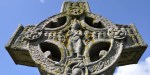 Read more:
This prayer of St. Patrick protects you in spiritual combat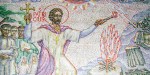 Read more:
The fire of St. Patrick that led to Ireland's conversion