This reflection by St. Andrew of Crete teaches us how to participate in Palm Sunday, no matter where we are.
One of the highlights of Palm Sunday is the distribution of palm branches, imitating the actions of the crowd who welcomed Jesus into Jerusalem. Yet the physical palm branches are not nearly important as the spiritual palm branches that we bring to this celebration.
St. Andrew of Crete, an 8th-century bishop, highlighted this spiritual reality in a discourse "On Palm Branches" that is featured in the Liturgy of the Hours on Palm Sunday.


Read more:
This liturgy is perfect for quarantine


It reminds us of the need to participate in a spiritual way in the Palm Sunday celebrations, welcoming Jesus into our own hearts. Here is a brief excerpt from this reflection that we should all meditate on to better understand the essence of this feast.
So let us spread before his feet, not garments or soulless olive branches, which delight the eye for a few hours and then wither, but ourselves, clothed in his grace, or rather, clothed completely in him. We who have been baptized into Christ must ourselves be the garments that we spread before him. Now that the crimson stains of our sins have been washed away in the saving waters of baptism and we have become white as pure wool, let us present the conqueror of death, not with mere branches of palms but with the real rewards of his victory. Let our souls take the place of the welcoming branches as we join today in the children's holy song: Blessed is he who comes in the name of the Lord. Blessed is the king of Israel.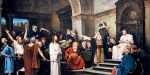 Read more:
This Palm Sunday, which Passion character are you?




Read more:
What should I do with my blessed palms?