If you are homebound, send your guardian angel to church. When you can return to Mass, remember your angel goes too.
Need an idea for Lenten almsgiving?
Help us spread faith on the internet. Would you consider donating just $10, so we can continue creating free, uplifting content?
Make a Lenten donation here
Our daily life, whether we realize it or not, is surrounded by the protecting presence of angels!
As the Catechism of the Catholic Church affirms,
From its beginning until death, human life is surrounded by their watchful care and intercession. 'Beside each believer stands an angel as protector and shepherd leading him to life.' Already here on earth the Christian life shares by faith in the blessed company of angels and men united in God. (CCC 336)
Angels are here to help us and above all, guide us to eternal life.
Read more:
5 Amazing facts about Guardian Angels
Many saints would send their guardian angels on various errands, such as praying at a church for them when they were physically unable to do so. This works because angels are spiritual beings, and thus not constrained by the laws of physical matter.
This means that when illness or other situations make it impossible for us to go to Mass, we can ask our angels to go.
To attend Mass for them is a great joy, as "Christ is the center of the angelic world. They are his angels" (CCC 331). They love God and will gladly pray for us at Mass anywhere in the world!
The angelic world is mysterious, but we are encouraged to pray to them in faith and trust that they will do what they can to lead us closer to God.
Here is a beautiful prayer, often printed on prayer cards, that dates to the 1920s and sends your guardian angel to Mass when you are unable to attend the Holy Sacrifice.
O HOLY ANGEL at my side,
Go to Church for me,
Kneel in my place, at Holy Mass,
Where I desire to be.

At Offertory, in my stead,
Take all I am and own,
And place it as a sacrifice
Upon the Altar Throne.

At Holy Consecration's bell,
Adore with Seraph's love,
My Jesus hidden in the Host,
Come down from Heaven above.

Then pray for those I dearly love,
And those who cause me grief,
That Jesus' Blood may cleanse all hearts,
And suff'ring souls relieve.

And when the priest Communion takes,
Oh, bring my Lord to me,
That His sweet Heart may rest on mine,
And I His temple be.

Pray that this Sacrifice Divine,
May mankind's sins efface;
Then bring me Jesus' blessing home,
The pledge of every grace. Amen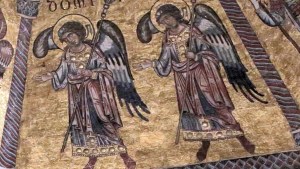 Read more:
A prayer to your family's guardian angels