Farmers need all the prayers they can get, especially during times of great trial!
The agriculture industry is essential to the success of any economy. Unfortunately, it is also such a fragile industry, easily impacted by changes in weather or severe shifts in human activity. These effects are long lasting and are not easy to overcome.
This is why farmers need all the prayers they can get!
One saint who has been known for his intercessory power for farmers is St. Isidore the Farmer, whose feast is on May 15 each year. He was a holy man who daily lifted up his heart to God as he went out to till the fields.
Here is an excerpt from a Novena to St. Isidore, found in the The Rural Life Prayerbook, that can be prayed for farmers and the success of their labors.
Be patient, therefore, brethren, until the coming of the Lord. Behold, the farmer waits for the precious fruits of the earth, being patient until it receives the early and late rain. Do you also be patient; strengthen your hearts; for the coming of the Lord is at hand. R. Thanks be to God.V. Prepare your work outdoors, and diligently till the ground. R. That afterwards you may build your house.Let us pray. Pour down Your blessing, we beseech You, O Lord, upon Your people, and upon all the fruits of the earth, so that when collected they may be mercifully distributed to the honor and glory of Your holy name. Through Christ our Lord. R. Amen.V. St. Isidore. R. Pray for us.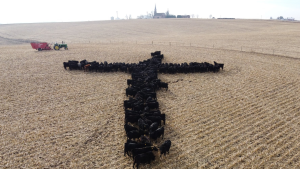 Read more:
Cattle crosses: A fun viral activity for farmers


Read more:
The Pope's Prayer for Small Farmers