Jesus said, "I have come to set the earth on fire, and how I wish it were already blazing!" (Luke 12:49).
When Jesus said to his disciples that he wished to "set the earth on fire," one interpretation has always been that he wanted to set our hearts on fire with his love.
Above all, Jesus wants us to fall in love with him and to be in an intimate relationship with him. While we do not have romantic feelings for Jesus, we should strive to love Jesus from our heart and not simply from our mind.
Here is a prayer adapted from the Golden Manual that can help in that regard, asking God in poetic language to inflame our hearts with his love.
O my Lord Jesus, O Fire that burns sweetly, and shines secretly, and consumes gently, take full possession of my whole heart. O King of kings, King of eternal glory, grant that I may hunger and thirst for

 you alone, sigh after you, and ardently desire to behold your countenance.

Grant, O my Lord, that, wholly filled with the sweetness of your love, and wholly set on fire with the flame of heavenly charity, I may delight in you with my whole heart, and from the deepest recesses of my inmost soul. May I love you, O sweet Lover; may I love you, O only salvation of my soul; may I love you, for you have first loved me! O my own most compassionate Lord, write on the tablet of my heart the sweet memory of you, which no forgetfulness may ever erase, that I may ever burn with the desire of you, that I may be wholly set on fire with the flame of your love, and drowned in the deluge of your charity.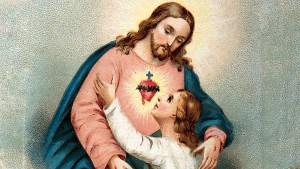 Read more:
Refresh your soul with God's love for you
Read more:
7 Heartwarming Bible verses about God's love