The Schachles were already planning to go to Fatima in March with a group of fellow Knights of Columbus insurance agents and their wives. The agents would be accompanied by Supreme Knight Carl A. Anderson and the Knights' Supreme Chaplain, Baltimore Archbishop William E. Lori. The journey also included Madrid, and there was an option — which the Schachles added — of a side-trip to Rome.

Before leaving for Fatima, the couple went for another ultrasound, to make sure it was safe for Michelle to travel. It was, although the baby showed a lot of fluid in the lungs and head. They continued to pray for Fr. McGivney's intercession, gathering the whole family each evening for the Rosary and the Prayer for Canonization of Fr. Michael J. McGivney.

In Rome, the couple met up with a friend, a priest from the States who was studying there. Learning of the couple's situation, the priest offered to bring them and several other Knights and wives to St. Peter's Basilica and offer Mass for them at one of the side chapels. The group was randomly assigned the Altar of Our Lady of Prompt Succor. Coincidentally, it's an altar that had been refurbished about 20 years earlier, financed by the Knights of Columbus. In fact, Michelle already knew what it looked like, because she liked a picture of it on a Christmas card from Supreme Knight Anderson a few years earlier that she placed it in her prayer corner.

That was only the first of several coincidences. In Fatima, when the group of agents and their wives gathered for Mass, the Gospel reading for the day happened to be the passage where a royal official beseeches Jesus for a cure for his ill son.
Jesus said to him, "Unless you people see signs and wonders, you will not believe." The royal official said to him, "Sir, come down before my child dies." Jesus said to him, "You may go; your son will live." The man believed what Jesus said to him and left.
"That was probably one of the moments that gave us the most hope, when we heard the Gospel that day," Daniel said. 
They reached Madrid in time for March 19, which was not only the feast of St. Joseph but also Daniel's parents' wedding anniversary. In Spain, it's a holy day of obligation and Father's Day as well. Michelle and Daniel spent much of their time admiring the art and architecture of churches throughout the city.
Strangely enough, every time they arrived at a church, it was the time of the Consecration. Fr. McGivney, whose middle name was Joseph, was first and foremost a priest, and the center of a priest's life is the celebration of the Eucharist, in imitation of Jesus's action at the Last Supper.
"Physically, I felt better" after the Mass in Fatima, Michelle said. "Looking back, now I realize I probably felt better at the Mass in Rome too. I never knew if that was just getting away from everything and resting or if it was the point where Michael was saved."
The Schachles had another ultrasound when they got home in late March. The physician who gave them the bad news originally was not available that day, so another doctor came in to review the latest images.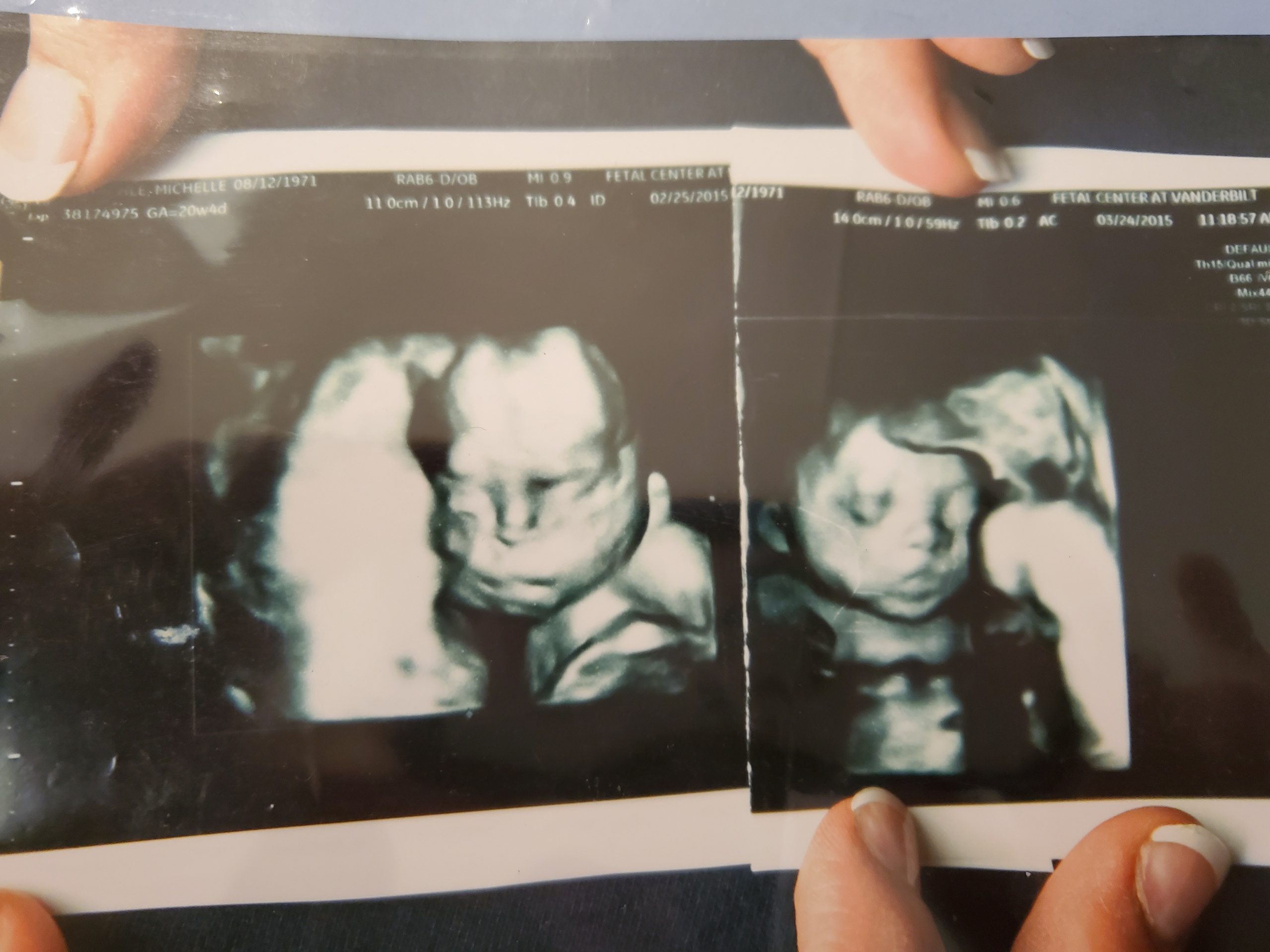 "This is the prettiest baby I've ever seen. Look at him," she told Michelle.
Michelle looked at the screen and saw some light cloudiness. "That's fluid, isn't it," she asked the doctor.
"A little," she replied.
"On his earlier ultrasound, his chest cavity looked like a balloon, because of all the fluid in there," Daniel said. "Like his lungs were all crumpled up, and you could see his organs just floating in this large sea of fluid. You could see his face — he looked like a 300- or 400-pound man, because his head was so swollen.
"But all of that was gone when we came back," Daniel said.