FRG Ministry is an excellent resource for young Catholics during ongoing pandemic.
Father Rob Galea, the musician-priest who famously dropped out of a promising stint on The X Factor to focus more time on his parish, has found new success in his online effort to promote the faith, the FRG Ministry. Organized to appeal to Catholic youth, FRG Ministry offers conferences, concerts, and faith development programs, while drawing on Fr. Galea's inspirational book, Breakthrough, and his wide array of musical releases.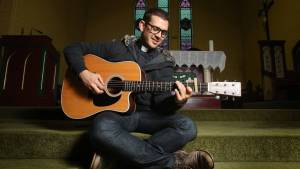 Read more:
Fr. Rob Galea sings an ultra-modern "Our Father"
In an interview with New Castle Star, Fr. Galea noted that visits to the website have increased by as much as 10 times compared to last year's traffic. The energetic young priest suggested that the world pandemic is the driving factor behind the group's surge in popularity, as Catholics the world over continue to seek virtual ways to worship. Galea said:
"People want to stay connected with their communities, not only with God," he said. "Every Sunday, our live mass attracts 10,000 people who comment and share a connection with each other."
Galea went on to note that FRG Ministry has come a long way since its founding six years ago. At its inception, there was some doubt whether an online ministry would appeal to enough people to make a difference. In retrospect, the team's six years of effort have left them poised to meet the rising online faith demands presented by the Covid-19 pandemic that arose in late 2019.
FRG Ministry describes itself as a Catholic movement bringing the love of Jesus and His message of hope to people of all ages across the world. Their main goal is to educate young Catholics in order to deepen their faith connections and spur religious thought. Their website offers a section of inspiring testimonials extolling their good works.
Working in tandem with the website is an extensive YouTube channel, where visitors can view some of Fr. Galea's live performances and music videos as well as inspirational talks by Fr. Rob, who is not afraid to tackle tough subjects, such as why God allows suffering and how to discern a vocation. Fr. Galea said of the ministry:
"Our aim has always been to supplement what is offered already," he said. "There will always be people who can't go to church because they are unwell or isolated. In no way does the virtual reality replace the beauty and tangibility of a community of faith."