Ask the Virgin Mary for help when financial struggles are taking over your life.
Money, whether we like it or not, often dictates our life. We never seem to have enough of it, and our finances rarely provide that security we desire.
Finances can be difficult to handle and can frequently cause us anxiety and stress as we try to survive in this world.
Whatever cares and anxieties we have, we can always turn to God and the Blessed Virgin Mary for comfort and peace. They may not always remove our financial obstacles, but they can help us endure them and seek after the treasure that truly lasts.
Here is a short prayer to the Virgin Mary in times of financial distress, adapted from the Catholic Prayer Book and Manual of Meditations, asking her to intercede for us and grant us the peace of God.
Mother of mercy, hope and comfort of all dejected and desolate souls, take pity, I ask you, on my poverty and necessities; have compassion on my anxieties and cares; assist and comfort me in all my infirmities and miseries. You are the mother of mercies, the refuge of the needy, of the desolate and the afflicted. Look, therefore, with pity on a miserable, forlorn child of Eve, and hear my prayer. O glorious and ever blessed Virgin, comfort the heart of your supplicant, by obtaining for me: [Here mention or reflect on your request, under the reservation of its being agreeable to the will of God, who sees whether it will contribute towards your spiritual good.] And as I am persuaded my divine Savior honors you as his beloved Mother, to whom he can refuse nothing, let me speedily experience the efficacy of your powerful intercession, according to the tenderness of your maternal affection, and his filial, loving heart.
Read more:
Worried about your financial situation? This ministry can help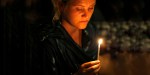 Read more:
If you are going through financial problems, this prayer might help