In the age of COVID-19, surround your child's school building with angelic protection.
Need an idea for Lenten almsgiving?
Help us spread faith on the internet. Would you consider donating just $10, so we can continue creating free, uplifting content?
Make a Lenten donation here
As schools resume sessions around the world, many are returning to classes with medical precautions. While these should help contain the spread of COVID-19, it is also important to involve God in your preparations, asking him to send his holy angels to protect your child's school building.
Here is a prayer adapted from the Blessing of a School found in the Roman Ritual.
Lord Jesus Christ, who bade your apostles to pray that peace might come on any house they entered, we entreat you to bless this building dedicated for the education of the young. Bestow your peace and blessing on it in full measure, so that its teachers and pupils may experience your saving grace, as did Zaccheus when you came into his home. Bid your angels to keep guard here and to drive away all power of the enemy. Inspire the teachers with knowledge, wisdom, and holy fear. Foster their pupils with grace from on high, so that they may grasp, retain, and put into practice the lessons they are taught. May teachers and pupils alike so please you by a truly virtuous life that they may finally deserve to be received into your everlasting home in heaven; through you, Jesus Christ, our Savior and our God, who live and reign forever and ever.
Read more:
Prayer for teachers, students and protection from diseases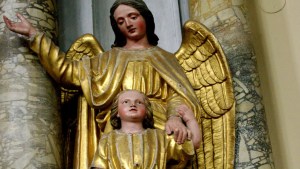 Read more:
Prayer to your children's guardian angels