Hold me so closely to Thee, with a bond so tight and so sweet, that I shall never again abandon Thee ...
Send us the names of your loved ones who are sick or suffering. The Aleteia prayer network of 550 monasteries will take them to prayer for the World Day of the Sick.
Click here to share your intentions
Padre Pio's feast is September 23. Let us grow closer to God through the writings and reflections of this great saint.
Name your petition for this novena and then consider the following reflection from St. Pio:
I unite all to Thy merits, to Thy pains, Thy expiations, Thy tears, that I may cooperate with Thee for my salvation and flee from sin, which was the sole cause of making Thee sweat blood and which led Thee to death. Destroy in me everything that does not please Thee, and with the sacred fire of Thy love write Thy sufferings into my heart. Hold me so closely to Thee, with a bond so tight and so sweet, that I shall never again abandon Thee in Thy sufferings. May I be able to rest on Thy Heart to obtain comfort in the sufferings of life. May my spirit have no other desire but to live at Thy side in the Garden and unite itself to the pains of Thy Heart. May my soul be inebriated with Thy Blood and feed itself with the bread of Thy sufferings. Amen. ~ Taken from "The Agony of Jesus"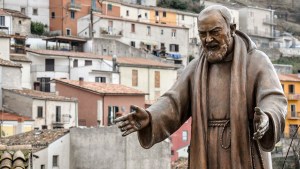 Read more:
When we're depressed or feeling blue, this prayer from Padre Pio is a way to reach out