It is true, of course, that Jesus hides himself very often.
You can get Aleteia inspiration and news in your inbox. Our specially curated newsletter is sent each morning. The best part? It's free.
Sign up here
Padre Pio's feast is September 23. Let us grow closer to God through the writings and reflections of this great saint.
Name your petition for this novena and then consider the following reflection from St. Pio:
It is true, of course, that Jesus hides himself very often. But what does it matter? I will try with his help to stay always close to him, you yourself having assured me that these absences are not abandonment but the pranks that lovers play. ~ From Words of Light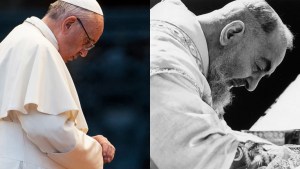 Read more:
Padre Pio's recipe for joy, according to Pope Francis